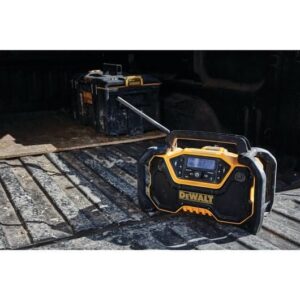 Image credits: DEWALT
A construction radio is useful for both communication and entertainment in jobsites. Different styles of jobsite radios are available for construction teams to tune in to their favorite radio channels or stream music from their devices. Construction workers can stay updated on the weather conditions by listening to the news as they work, so they can immediately stop the project if there is a challenging forecast up ahead. This will allow everyone to prepare in advance, take safety measures, or leave the place sooner in the event of a wildfire, a storm, and other natural disasters. Construction radios are a useful link to the outside world and help teams stay tuned to necessary updates. On a lighter note, they also make the best source of entertainment by streaming music. You will find various construction jobsite radios from popular brands like DEWALT, Milwaukee, Makita, Bosch, and Ridgid, and some of these are discussed in this article.
Construction radio – features to look for
Loud audio quality
A good construction radio should deliver loud and clear audio so that everyone nearby can hear it easily. Since construction jobsites are quite noisy, having good quality audio will help you play the content without creating distortion.
This usually happens when the volume knob is turned to the maximum limit, often exceeding its capacity to produce the ideal audio range in a loud and noisy construction environment. Without the right type of construction radio, you might keep increasing the volume levels without any audible difference to the sound quality – and the distorted background noise will only be amplified as a result.
Sound coverage
Following loud audio quality, the radio also needs to provide ideal coverage so that everyone in a reasonable vicinity can hear the audio. This means that the radio or music can be played at a normal volume without having to reach the distortion range. So, staying within a certain coverage will help you get the best out of sound production without compromising its quality.
Durability
Construction radios need to have a rugged design suitable for the harsh jobsite conditions they will be used in. Make sure to look for radios with a protective roll cage design that is added as a safety feature to keep the radio safe from impacts, falling, debris, etc. Durable construction radios also have weather-resistant features for safer usability in any weather, including the rainy season. They should be able to withstand exposure to dust and splashes, which are both common constants in construction jobsites. Ideally, you want something that you can leave in the jobsite without worrying about damaging it.
Correct size
Size is another important feature. Construction radios are available as small/compact as well as large/heavy units, so you can buy one depending on how frequently you will move it. Compact radios are lightweight and very portable, whereas heavier radios are more suitable for situations where they just need to sit in a corner for a long time – like in big, same-location projects where you will not be carrying the radio back and forth as much.
Long battery life
Battery-operated construction radios need to have a good battery life for all-day-long usage. Before buying a construction radio, make sure to check its power source options depending on how much you intend to use the radio.
Batteries that run out fast will require frequent replacements or recharging, so it really depends on what kind of a jobsite you are working in and how accessible a power outlet is. Another crucial battery aspect is its compatibility with same-brand power tools. For example, a cordless jobsite radio from DEWALT can use the same batteries as other power tools from the brand, so this makes a good and readily-available backup power source. You will always have at least one charged battery at hand, ready to go.
Versatility
Good construction radios can be quite versatile at a higher price. Apart from streaming audio content, they support a host of other features for miscellaneous jobsite solutions. This includes features like Bluetooth connectivity to stream audio from different gadgets. Most construction radios from DEWALT and Bosch provide integrated battery charging, so you can charge other cordless power tools easily. They often come with an isolated storage slot to hold your smartphone and keep it safe from water, dust, and other damages. If you have more budget freedom, consider buying a construction radio with such add-on features that will make your work easy in any jobsite.
Best construction radios for jobsites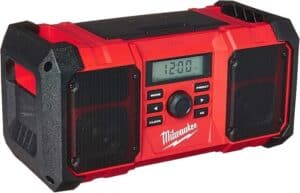 The Milwaukee M18 (2890-20) jobsite radio is one of the most popular options for construction jobsites. It will also make an excellent addition to your Milwaukee toolset.
Jobsite-friendly features:
High sound quality, loud enough for jobsites
Digital AM/FM tuner with up to 10 radio station presets
Sturdy fold-out antenna
Music streaming from smartphones via a 3.5mm aux jack
Durable, robust design using shock-absorbing end caps to withstand tough conditions
Device charging facility via a 2.1A USB charging port
Smartphone compartment for safe storage
Stackable, neat design for easy storage and transport
Compatibility with M18 18v lithium-ion Milwaukee batteries
All-day-long battery life
Long cord helpful for continuous streaming
Main limitations:
Too pricey for the given sound range quality and reception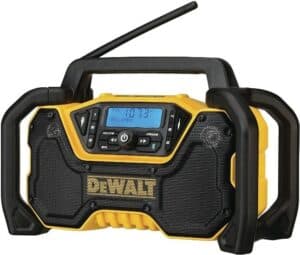 The DEWALT Bluetooth construction radio (DCR028B) is popular among those who prefer compact and portable radios. If you already use DEWALT tools, this radio will make a compatible addition to the set.
Jobsite-friendly features:
Adjustable speaker tone with a premium quad-speaker design
Enhanced stereo sound through dual 3.5-inch woofers and 1-inch tweeters
Radio antenna fits the handle for seamless storage
AM/FM radio with 6 different radio channel presets
Bluetooth connectivity for streaming music at up to 100 feet
Cordless, portable design is also lightweight
Battery-operated and includes a detachable 120V AC power cord for continuous streaming
Impact-resistant and durable with a heavy-duty roll cage
Device charging convenience via a USB port
External device connections through the 3.5mm auxiliary port
Compatible with DEWALT cordless power tool batteries – so if you already use those tools, you can switch between charged batteries easily
Main limitations:
Battery and charger are not available with the radio
Expensive
Lacks a storage slot for the cord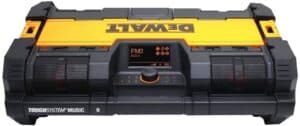 DEWALT ToughSystem Radio (DWST08810) is a battery charger unit as well. Featuring a host of impressive functions, this construction radio is the best choice among high-end options.
Jobsite-friendly features:
High-quality sound through 4 full-range tweeters, 1 subwoofer, and 1 assisted bass resonator
Radio and Bluetooth functionalities
Connects to Bluetooth devices for streaming audio from 100 feet away
Operates on 12V MAX*/20V MAX* DEWALT lithium-ion power tool battery
Can be plugged into nearby outlets using the cord
DEWALT power tool charging facility for 12V MAX* and 20V MAX* options – can charge two at the same time
Less downtime due to quick recharging
Portable and stackable design saves space during transport – especially if you also use DEWALT's ToughSystem Carrier cart equipment
IP54 rating for water and dust resistance
Weatherproof and rugged for a longer life
Availability of a 3.5mm aux port and a 5V/1A USB charger
LED indicator displays charging status and battery diagnostics
Main limitations:
One of the most expensive options
Battery sold separately
Heavy design makes it less portable
The Sangean BlueBox radio (BB-100) is one of the most affordable options with a small, compact, and lightweight design. If you do not prefer huge, rugged radio styles and will probably move around a lot, this is the perfect choice for easy portability.
Jobsite-friendly features:
AM/FM digital tuning with 10 memory presets
Flexible antenna
Bluetooth connectivity for wireless audio streaming
Aux-input for non-Bluetooth devices like MP3 players
Single speaker delivers bass-heavy sound quality for jobsites
Compact and affordable
Rain, dust, and shock-resistant
Protective roll cage for impact resistance
Operates with 4 rechargeable C batteries or the included power cord
Main limitations:
Lacks batteries
Plastic cage is not very durable
Not the loudest construction radio option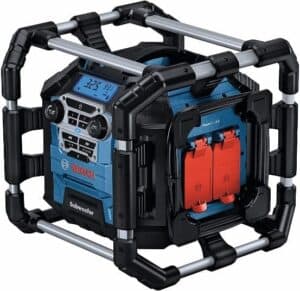 The Bosch 18V jobsite radio (GPB18V-5CN) is another heavy-duty option that easily withstands daily exposure to construction wear and tear. It is popular for the following features.
Jobsite-friendly features:
Digital AM/FM tuning with presets
AUX cable for MP3 players and other gadgets
Bluetooth technology for wireless music streaming from 100 feet away
360-degree stereo sound using 4-way speakers and an integrated subwoofer
Uses Bosch 18V lithium-ion batteries
Can be plugged via included 120V AC power cord
Device charging ports to power up other gadgets
Large, glove-friendly buttons and knobs – ideal for quick handling wearing construction gloves
Protective aluminum rubber roll cage
Main limitations:
Expensive
Does not come with Bosch 18V lithium-ion batteries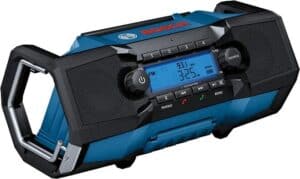 The Bosch 18V Construction Radio (GPB18V-2CN) is our favorite choice for compact radio types that you can carry around and place both vertically and horizontally on a surface.
Jobsite-friendly features:
Digital AM/FM tuning with multiple presets
Bluetooth cordless benefits for streaming music
AUX-IN connections for MP3 players
High-quality speakers with enhanced bass and sound clarity
Small footprint when placed vertically
Uses Bosch 18V lithium-ion batteries and a power cord
Convenient carry handles
USB charging for gadgets
Long battery life
IP54 rated, so suitable for most jobsite conditions
Main limitations:
Bosch batteries not included
Conclusion
Construction radios are essential jobsite tools for both communication and entertainment. The rigorous jobsite environment can easily damage a radio unit – considering falling debris, dust, and elemental exposure.
It helps to buy a rugged and heavy-duty radio to stay tuned to news updates and enjoy some occasional music break. Regardless of the purpose, roll-cage construction radios look something out of a Transformers movie, and yes we totally noticed DEWALT Bumblebee and Bosch Optimus Prime sitting innocently around jobsites!