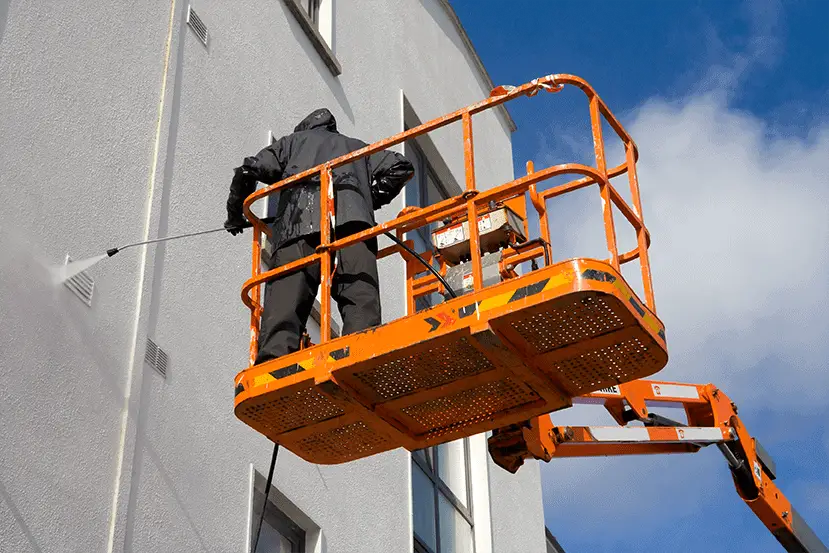 Image credits: Alexey Zarodov – stock.adobe.com
Commercial buildings develop a lot of visual wear and tear as time passes, and this can be the result of several factors like seasonal damages, storms, pollution, graffiti marks, and so on. Since curb appeal is a key component in drawing visitors and clients, commercial owners need to ensure regular upkeep for their buildings. This includes high-detail cleaning methods such as power washing, particularly for the building's exterior. Commercial power washing is an important maintenance aspect that will help you refresh your building's appearance and make it look as good as new. This article focuses on the benefits of power washing as well as the cost per square foot to power wash a commercial space.
Commercial Power Washing
General Definition
Commercial power washing refers to the use of pressurized hot water with cleaning chemicals in order to tackle the stubborn buildup of dirt, grime, and stains. All types of commercial buildings are exposed to inevitable damage from wind, rain, snow, storms, mold, mildew, algae, pollution, grease, graffiti marks, etc.
If not addressed promptly, these damages can build up over time and ruin the aesthetic appeal of a building – causing a host of associated problems like infrastructural harm, health issues, infestation, and expensive repairs. With professional power washing, commercial owners can tackle such issues and restore both the functional and aesthetic aspects of their buildings. The localized, hot water pressure is powerful enough to rinse away the buildup and stains – in addition to killing harmful bacteria – and it offers much more effective cleaning that simply cannot be achieved through daily cleaning or maintenance.
While the main process is the same, both the applicable method and the cost per square foot will differ based on the equipment and chemicals used, the type of surface involved, and the level of cleaning required. Power washing is ideal for heat-compatible surfaces like concrete and tile. The equipment comes with an adjustable nozzle that allows the technician to customize and control the water pressure. Quite often, this adjustability is enough to achieve thorough cleaning without adding chemicals, especially if you want to avoid the risk of contaminating the nearby landscape as a commercial owner.
Recommended Frequency
Commercial power washing can be scheduled at least twice a year as a part of your maintenance program. This will ensure thorough, deep cleaning after the peak seasons, as your building will already undergo its routine maintenance, so power washing will add just the right finishing touches. Apart from the building's exterior, you should also include the sidewalk, parking spaces, and the immediate landscape to fully renew the curb appeal of your commercial establishment. Power washing will help you get rid of piled-up leaves, dust, debris, pollen, contaminants, water marks, and other stubborn damages as the seasons change. In addition, it is a useful cleaning method to rinse away the surface aftermath of a storm, which helps the building revive its outlook quickly before the damage spreads. The cost per square foot to power wash the area will depend on the current condition of your property and the intensity of cleaning required to fight the damage.
Key Benefits
A professionally conducted power washing program can bring several benefits to a commercial business, including:
Tailored maintenance. Professional power washers have the right equipment, chemicals, and safety gear required for your building's specific cleaning needs. You cannot improvise with DIY methods for commercial-scale maintenance because deep cleaning can only be achieved with the right tools, nozzles, compatible chemicals, and professional handling. So, by enlisting the help of professionals, you can ensure the best maintenance services that apply to your building. The cost per square foot will also increase correspondingly, but the tailored approach will always pay off in the long run.
Enhanced curb appeal. Power washing covers areas like sidewalks, building façades, parking spaces, and the surrounding landscape. By restoring these key elements of your building's exterior, you can improve both the first impressions and the curb appeal of your establishment. This will also boost the foot traffic toward your business, especially if you run a retail store or a restaurant.
Higher property value. Good curb appeal also equals an even better property value. By checking the major boxes for first impressions and clean aesthetics, you can ensure successful leasing and increase your pool of interested buyers over the years.
Reduced future repairs. Commercial power washing tackles a number of damages like dirt, grease, algae, birds' droppings, etc. This in turn reduces the risk of decay and corrosion over time, so you no longer have to worry about unexpected repairs slowing you down the road – which will happen eventually with the rot eating into your building's structure. Neglected surfaces can begin to wear away and lose both their structural integrity and aesthetic value, especially for materials like brick and concrete. While full-scale power washing can cost you more per square foot initially, it does cut down the total number of repairs your building encounters in the future.
Healthier environment. Power washing also eradicates bacteria, toxins, allergens, and contaminants in its wake. These surface threats stick to the building as the seasons change – more so if your building is located near the beach or in industrial locations. The tougher the surrounding location, the higher your power washing will cost per square foot to get rid of the buildup.
Surface prepping. Power-washed surfaces become ready for a new coat of paint because all the dirt and stains get rinsed away, leaving the surface with a canvas-like clarity.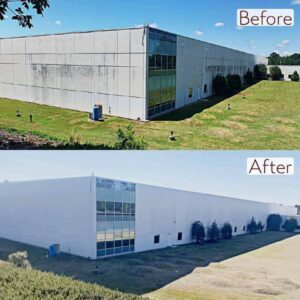 Image credits: Pro Finish Pressure Washing
Cost Per Square Foot
In general, power washing on commercial buildings can cost you between $0.75 – $1 per square foot for standard cleaning. The range can go up to $5 – $20 per square foot for larger establishments with more heavy-duty equipment needs, so your overall cost depends on your specific configurations – including a number of other factors as we will see below. Commercial owners can choose to power wash only their building's façade or include other exterior spaces too like the parking lot and the entrance. Each commercial power washing project is different, and it all comes down to the factors that apply to your property.
Associated Factors
This average cost range can be affected by various factors depending on your specific building status. You can expect the following factors to influence the range that is applicable to your commercial establishment:
The total washable area. The total square footage to be washed – both vertical and horizontal – will be factored into the final amount, so the cost per square foot will vary accordingly. Larger projects will cost more because of the total size to be washed as well as the number of days required to complete the project.
The surface materials involved. The washable materials of your commercial property will strongly affect the cost per square foot to power wash the space. It is much easier to power wash glass façades and tile floors compared to tackling the more aggressive concrete and brick. If you have a mix of materials to clean, your cost per square foot will vary based on the intensity of cleaning required until the entire washable area is sparkling clean.
The commercial location. Buildings that are located in harsh environments like the beach and industrial areas will experience faster buildups of dirt and stains. Similarly, commercial properties like restaurants, offices, and hospitals that have a busy foot traffic every day will develop quicker damages. These buildings require more frequent power washing plans within a year to combat the buildup, which also costs higher per square foot for each cycle.
The required equipment and chemicals. Power washing will be effective only with the right type of equipment and chemicals that are compatible with each other as well as the surfaces to be cleaned. If your property requires industrial-grade machines for better power, the project will cost you more per square foot. Special detergents or chemicals for treating tough stains like grease will also increase the total cost. Professional power washers know which machine and chemical will be suitable based on your reason for this maintenance program. Do you want to clean up after a storm? Is this a seasonal cleaning schedule? Do you want to prep the surface before repainting it? Depending on your answer, the company will recommend the best solution for your building, and your costs will vary accordingly.
The offered services. Professional power washers provide a range of services that are tailored to meet your project scope – nothing less and nothing more. Usually, a typical power washing package will include pre-inspection during which the contractor will evaluate your property's status and confirm the type of equipment and chemicals needed. This includes confirming the use of scaffolds and vehicles for high-rise buildings. It also includes finding out the code compliance for using chemicals within the area, as the risk of contamination can open lawsuits against you – the property owner. A project that requires high-power machines, extra vehicles, and special chemicals to tackle the damage will naturally cost more per square foot compared to a building with basic, water-only cleaning needs.
With Great Power Comes Even Greater Cleaning!
To understand how much should power washing cost per square foot on your commercial building, make sure to get in touch with professional teams – both for a thorough consultation as well as for tailored services. These companies have trained and licensed technicians who know their tools, understand the surfaces involved, and can work with the least disruption to your everyday work. You can find local options and shortlist them based on client reviews and ratings – social media networks will also make a great starting point. The cleaning process itself is so visually satisfying and rewarding – so don't forget to snap the before-and-after results for future reminders!