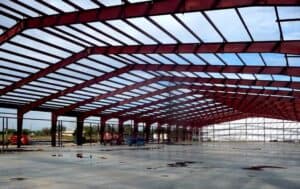 Image credits: Rhino Steel Building Systems
Industrial buildings offer a lot of spatial versatility in the way they can be used by different organizations. For example, warehouses are getting transformed into offices more and more these days, encouraging this fusion of commercial and industrial flavors to define the latest workspace trends. Businesses also rely on warehouses for storage needs and logistical aspects, so there are multiple ways to maximize the vast open space offered by a typical warehouse. And this is just one area of industrial building types – depending on the industrial activity, you can consider such a building to be anything from a storage warehouse to a full-scale manufacturing facility. Therefore, industrial building construction is a very diverse project spectrum based on your expectations from the given space. Naturally, the cost to build an industrial building per square foot also differs accordingly, and since construction economics are highly volatile at present, we have combined some of the latest average numbers in this guide to help you kick-start your estimation process.
Cost to build industrial buildings per square foot
Industrial building types
Industrial buildings include structures that are built for heavy-duty, large-scale, and of course, industrial applications. So, there is a variety of building types associated with this vast portfolio. Depending on your specific requirements, you might be working with one of the following industrial building projects (and these are just a few to name):
General storage warehouses
Office warehouses
Warehouses with temperature and humidity control (for perishable goods)
Cold storage warehouses
Warehouses with automation
Parking garages
Steel and other mills
Manufacturing facilities
Food factories
Automotive plants
Costs per square foot
An average industrial warehouse has a footprint of anywhere between 10,000 to 50,000 square feet depending on the type of industrial activity it is designed for. Small warehouses usually have a square footage of less than 5,000 – so your total cost to build the industrial building per square foot will vary according to your specific project. For quick average estimates, industrial buildings can cost anywhere from $15 – $100 per square foot for basic construction projects, and if you add high-end details for bigger buildings, your budget can escalate to $200 – $300 per square foot as well.
Let us zoom in on these cost ranges to understand the industrial diversity a little better and see how different building types influence the project costs. The architectural shapes of these buildings also determine the overall construction costs, as building frameworks made of steel – the most popular industrial construction material – come in different shapes and sizes like semi-cylindrical (or Quonset hut) and triangular-roofed. So, considering the shape of the industrial building, here is a quick glance at the kind of costs your project will use by General Steel Buildings.


Image credits: General Steel Buildings
If we compare a 5,000-square-feet warehouse to a 50,000-square-feet warehouse, the cost estimations will go something like this. According to Green Building Elements, a warehouse measuring 5,000 square feet will cost around $6.20 per square foot to be constructed, which gives a total of $31,000. In comparison, according to Allied Buildings (and assuming that the construction economics work in your favor), you will pay around $12 to $19 per square foot to build a 50,000-square-feet steel warehouse. This gives you a total of $600,000 to $950,000. These estimations can apply to basic industrial buildings without much focus on technical add-ons. So, while talking about something more amenity-rich like a cold storage warehouse, the numbers simply soar to the higher end, costing an average of $160 per square foot. The higher costs are due to the heavy-duty technical needs of such buildings, causing the utility framework to remain closely tied to the actual construction costs.
Strong Building Systems offers another simplified breakdown to divide costs based on the industrial project type:
Metal building: $3.50 – $15 per square foot
Shell (mostly metal and concrete): $19 – $25 per square foot
Turnkey: $55 – $70 per square foot
Based on the above estimates, a close-to-shell industrial building that lacks any significant features like lighting, HVAC, and relevant build-out will cost up to $25 per square foot, whereas if you are investing in a turnkey project that will cater to all your industrial needs, you can expect to pay $55 – $70 per square foot.
Factors that affect the final cost
Location
Your industrial building's location has got everything to do with the labor and material availability for your project, so if your region is facing logistical challenges, this will directly impact your final costs per square foot. Associated factors like snow and wind, seismic activity, local codes, and fuel rates cause the overall costs to increase – anything that brings your project activities to a halt will make it that much more expensive to resume them. Applying the laws of inertia, things that are at rest prefer to stay that way, and in the world of construction, they also allow the associated costs to marinate overnight! So, unless you find a way around regional obstacles, your materials and equipment will remain stuck in transit, and your labor will certainly not turn up on time. The result is that you will be paying extra to bring things back in action.
Materials, equipment, and resources
Coming to the materials themselves, the cost to build industrial buildings per square foot relies massively on the materials and equipment your project requires. Steel is one of the main industrial construction materials and goes into the primary framework of any industrial building. The sad news is that the mood swings of the construction economy also influence steel prices nearly every day, so you really have to align the latest material costs with the starting date of your project. Otherwise, you risk under or overestimating your whole budget and potentially causing reworks down the timeline.
Another key material is concrete. Industrial warehouses require proper concrete and rebar foundations to ensure the building's compatibility with the local challenges – like snow or earthquakes. Your building's concrete footprint should reinforce the structure to withstand such challenges, or else it will take no time to collapse.
Industrial buildings with larger concrete footprints require extra labor, equipment, vehicle, and of course, concrete. This pushes your costs per square foot to the higher end. In general, basic materials for a standard warehouse will cost around $50 – $65 per square foot, whereas materials for a temperature-dependent warehouse can cost up to $150 per square foot. Your project will also need various specialized vehicles like forklifts and other machinery or equipment for different stages – all of which will settle into the total costs.
Whether your industrial building expands vertically or horizontally, the associated material and labor costs will increase because the amount of work per square foot is also increasing. However, by moving vertically up for larger industrial establishments, your building takes comparatively less land space, and this results in reduced costs mainly because of the reduced concrete footprint.
Industrial add-ons
We saw earlier that additional amenities for a warehouse will cost you more per square foot to achieve – for example, a cold storage warehouse costs far more to build than a simple warehouse. This is because temperature control and humidity control remain active 24/7, so your building has an added load to tackle on a permanent basis, which calls for a well-equipped infrastructure that is expensive to build. Building insulation, weather resistance, seismic resistance, refrigeration, and warehouse automation are some of the main examples of industrial add-ons that businesses invest in.
These features entirely depend on your reason for building the industrial structure. Are you planning to store perishable goods that need specific indoor climate controls? Do you want to leave some spare square footage to accommodate future expansions? Is the available layout compatible with warehouse/conveyor automation? Do you need automated temperature controls for your inventory? Depending on your answers to these questions, you might have to plan the right amenities to add to your industrial building and adjust the total costs accordingly.
The cost to build nerves of steel
Now that we know the average costs behind industrial construction – including factors that affect them – it is time to wrap up with some final advice. Do not just aim for a low quote – make sure that it also includes EVERYTHING you expect for your industrial building.
Clients often forget to ask for itemized quotes during the bidding stage, which causes various key elements to be conveniently excluded from the quoted range. So, think about features you want to focus on such as automation, refrigeration, or space planning, and ask potential contractors to break down costs accordingly.
It is important for the building to stand up to seismic or elemental challenges depending on your location, and such projects are best left in the hands of professionals with the relevant portfolios and reviews to back their work. Remember to work with reliable and certified steel builders, suppliers, and industrial contractors who can help you connect these scattered dots easily. Keep your local obstacles at the frontline of both your consultation stage and the actual building process. This will help you plan and invest in the right materials, quantities, tools, and skills required to construct your industrial brick-and-mortar – which, by the way, must be truly resilient in order to be called industrial!