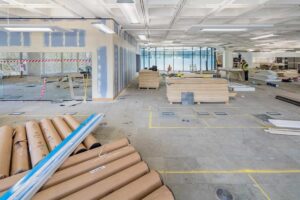 Image credits: Amos Beech
Office refurbishment is an excellent opportunity for a company to change its look and feel without relocating to new premises. You might have different reasons to update and improve your office – the most common ones include design upgrades and space optimization. Such a project will help you address the emerging needs of your company and employees, so your typical office refurbishment checklist can be very limited or very detailed depending on the number of things you want to work on. This is an important undertaking to refresh your brand image over time by introducing the necessary design and technical improvements – all of which contribute to workplace creativity that makes your employees look forward to their day. Here is what a general office refurbishment process will look like.
Office Refurbishment Checklist
First of all, an office refurbishment is carried out on existing offices that need various improvements to look and perform better. The focus is on renewing your existing workspace so that you do not have to find a new office. Such a project brings several benefits to owners who are aiming to redefine their corporate environment and have a strict budget to work with.
Office refurbishment adds value to your existing space, improves its visual strengths, and makes it possible to plan office expansions or reductions. Space ergonomics and optimization are key elements in this project, so you will be able to reconfigure your available plan to accommodate extra storage, flexible workstations, more enclosed offices, etc. Since you will collaborate with design and renovation consultants, you might also receive a full space audit to first identify the negatives before setting your project scope. This requires working on your office refurbishment checklist to understand how the project will unfold – and the following are some key items to add to the list.
Compile All The Reasons To Refurbish
To begin with, you have to first identify all the workspace triggers that call for an office refurbishment project. This is all about deciding "why" you need to organize such a project, so you should sit down with relevant stakeholders of your company and brainstorm a full list of reasons. Everyone who will be affected by the refurbishment process must be on your discussion panel. This could be your HR manager, finance manager, IT department, operations director, office manager, and so on – pretty much everyone who will have a say in what needs to be improved and whether or not it is feasible to begin. In this way, you can prioritize your scope more clearly and have all your major stakeholders stay on the same page. Some of the reasons to plan an office refurbishment include:
Updating the interior.
Expanding the layout.
Adding workspace ergonomics.
Boosting employee productivity.
Adapting for corporate rebranding.
Future-proofing the design.
Going green.
Finalize The Refurbishment Scope
Once you figure out the "whys", it is time to finalize the project scope by zooming in on individual details to cover under each reason. You can get your employees involved with this checklist item and take their feedback on the areas for improvement.
Here are some of the main considerations to include in the project scope:
Corporate colors. Office refurbishment is the perfect time to rethink your color palette and design themes.
Lighting. This is also your chance to introduce more natural light, especially for open workspace layouts.
Space optimization. Identifying underutilized spaces, improving access to amenities, and creating navigable floor plans are all important optimization areas. They will help you improve both the navigability of your office as well as its storage needs.
Automation. This is crucial for both adding smart fixtures and future-proofing your office for emerging technologies.
Office acoustics. If noise is a constant problem for your employees (or neighbors), you need to add proper acoustics within your office.
Sustainability. Office refurbishment is a great opportunity to use sustainable materials, technologies, and processes that help you go green as a brand.
Hire An Office Refurbishment Company
Now that you know exactly what to expect from your project, you can start looking for suitable refurbishment contractors who will offer specific services that you need. Your project team will generally include a contractor, architect, designer, and project manager. Make sure to browse the company's portfolio to check for project relevance and decide if it can offer what you are looking for. Does the contractor provide space audits and complete evaluations? Have they worked on similar office refurbishment projects before? Do they have good office customer reviews? Will they help you with the necessary permits? These are some questions you should ask before hiring your project team.
Get The Right Permits And Licenses
As we said earlier, you want to hire someone who will help you with the permit stage of your project. This is an important office refurbishment checklist item because your project will get its green light only after the relevant permits and approvals are covered. Otherwise, you can face legal setbacks as the owner of your company. Everything under your project scope should be code compliant, including the renovation work and materials used.
This ensures the safety of your employees and the office environment, so it is crucial to work with reliable teams to handle this. You will be expected to take care of the following areas:
Discussing your refurbishment plan with your building owner.
Ensuring compliance with codes, health and safety guidelines, and ADA practices.
Getting all the permits from relevant authorities.
Updating your project scope to include only the approved changes.
Revising your lease accordingly.
Set A Realistic Budget
With the help of your office refurbishment company – and the revised approved project scope – you can work out a reasonable budget that will cover all the changes to be made. Ask your contractor for an itemized quote that lists your refurbishment elements along with their respective costs. The budget should have enough buffer to accommodate unexpected changes that stretch your initial expenses. Office refurbishments usually go over budget when new improvement areas come to light as the project unfolds, so it is always a smart precaution to be ready for such extra costs. Once you know your financial allocations with an itemized budget, you can decide the quality of finishes based on how much leverage you have for high-end features.
Synchronize The Timeline
Scheduling is another main office refurbishment checklist item, and it is important to keep all the dates and processes synchronized. This ensures timely material/furniture deliveries to suit various stages of the project, so you want to plan ahead and tackle schedules early on once you hire your team. As with budgets, your timeline should cater to potential delays and reworks to be able to bounce back with no harm done.
During scheduling, you should consider the following essentials with your team:
Do you need to relocate temporarily until the project is complete?
Can the refurbishment company work in phases to enable partial office activity and minimal disruption to your business?
What are your "plan ahead" aspects that you need to tackle early on – such as placing orders, getting permits, etc.?
Which critical stages can cause the most damage if not finished on time?
Are there any overlapping processes?
When should you place orders for materials, furniture, equipment, etc. for their associated project stages?
What are the final start and finish dates?
Visualize The Updated Space
This is all about using digital tools like space planning software and 3D visuals to get the look and feel of your refurbished office. Your chosen company will help you with this, so you can expect to sit down with your designers and architects to create on-screen visuals for your project. If you already have some inspiration to work with – like Pinterest mood boards – you can ask your team to generate similar layouts for a creative, multifunctional space. This will help you plan a more efficient office layout with the ideal storage/furniture placement, mix of open and enclosed offices, break nooks or cafeterias, conference rooms, etc. 3D drawing tools can create realistic images, so you can visualize your space better and tweak the design until you are happy. This is also productive in terms of sharing the end results with your own corporate team and getting instant feedback from everyone.
Order Compatible Furniture
Another benefit of tapping into 3D visualization is that it can help you determine the right furniture for your office space. This is particularly useful if you are planning to introduce better workspace ergonomics using compatible furniture that fits the space, works for everyone, and improves storage/organization. Quite often, an office refurbishment company provides furniture options as well if it partners with different manufacturers, so you should be able to place bespoke orders. Keep in mind the fact that custom orders take long to finish and arrive at your doorstep, so this is something you should plan during the scheduling stage and place orders accordingly. Furniture compatibility is important for office refurbishment because you are planning this project to enhance both the design and functionality of your available space. With the right ergonomic chairs/desks that fit well and proper shelving options that solve your storage problems, you can make a huge difference to the look and feel of your office interior.
Conclusion
A good refurbishment contractor should provide all the main services like project management, 3D planning, permitting and approvals, space auditing, and furniture delivery – apart from the actual work you have planned for your office. It is easier to have a single refurbishment company working on your project, as this reduces the need to manage multiple collaborations, deadlines, and procedures. Once all the improvements are in place, don't forget the final item on your checklist: Enjoy your new corporate potential!