Magnetic whiteboards don't only belong inside the classrooms. Some whiteboards take up a space equal to printer paper sheets which are also called mini-whiteboards while others can occupy a space of up to 32 square feet. Mini magnetic whiteboards are a great way to transform even the most complex ideas into an easily understandable visual. They are small and handy that are loved by kids. These small whiteboards work excellently for jotting down tasks, reminders, and ideas at your work desk. Since they can be used repeatedly, there will be no stacks of papers lying around that, in turn, saves your space and the environment. They are great for ideation and allow you to express yourself by hand, also serving as a reusable alternative to papers for note taking. Mini magnetic whiteboards work with all standard dry erase markers for writing and drawing with a quick and effortless wipe-off.
If you are planning to get a mini magnetic whiteboard to keep on your desk or simply to convey information and ideas this list of products will help you in choosing the best that suits tour needs.
U Brands Contempo Magnetic Dry Erase Board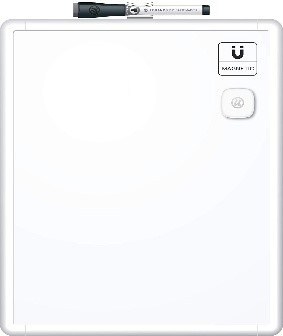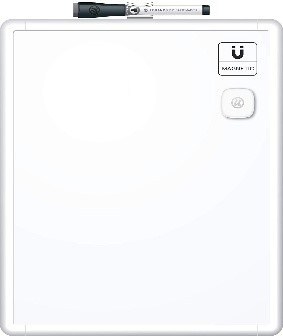 This mini magnetic whiteboard by U Brands Contempo is highly durable and lightweight which is available in two sizes 8.5 x 11 inches and 11 x 14 inches. This whiteboard is excellent for writing tasks and ideas that can be placed easily on your work desk. It features a glossy painted steel surface that can be cleaned easily and resists staining as well. U Brands Contempo Magnetic Dry Erase Board can be hanged easily with the help of Velcro mounting strips that come along with it. This whiteboard also doubles as a personal bulletin since it is magnetic and works well with all dry-erase markers. Additionally, it comes with an eraser-capped marker and a cork magnet. You will be required to purchase additional accessories like extra markers and pen clips separately.
Kedudes Magnetic Dry Erase Board with Markers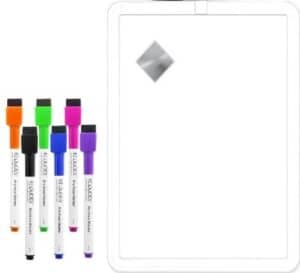 This Magnetic Dry Erase Board by Kedudes is specifically engineered to fit any circumstance in your busy life. This efficient magnetic whiteboard comes in two sizes 8.5 x 11 inches and 11 x 14 inches. You can easily mount it in a school locker, on a refrigerator which serves a great place to write notes, mementos, and lists. It comes along with some bonuses such as 6 colorful nice smelling fine- point markers and an extra black marker that has a chrome-colored pin clip. This magnetic whiteboard weighs less than a pound and can be affixed to multiple surfaces through the double-sided sticky tape and a combination of magnets. The frame of this board is sleek and has rounded silver cornices that do not prick finger or scratch walls. It also has two decorative chrome magnets that can hold anything ranging from photos to notes.
Small Dry Erase Whiteboard – Mini Magnetic Desktop Foldable Whiteboard Easel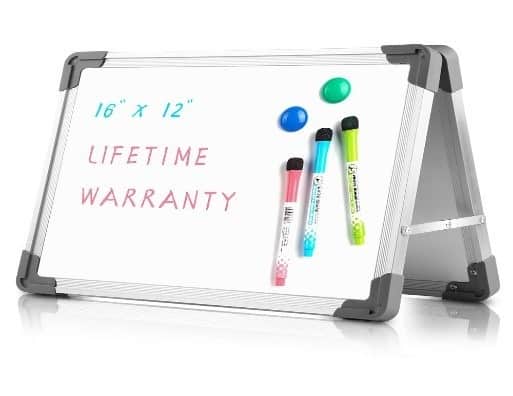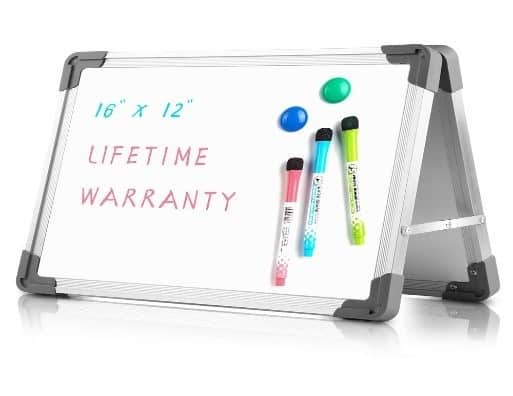 This Small Dry Erase Whiteboard comes in the dimension of 16 x 12 inches and is perfect for drawing and writing at home or in interactivity in a classroom setting. This magnetic whiteboard has a double-sided sturdy and smooth surface which is scratch resistant that is easy to write and easy to clean without any stain. It comes along with three markers with a magnetic dry eraser cap and two magnets. This Small Dry Erase Whiteboard is lightweight and foldable making it comfortable to carry and use anywhere from the office to schools and serves as a great help for managers, kids, teachers, and students.
U Brands Magnetic Frameless Dry Erase Board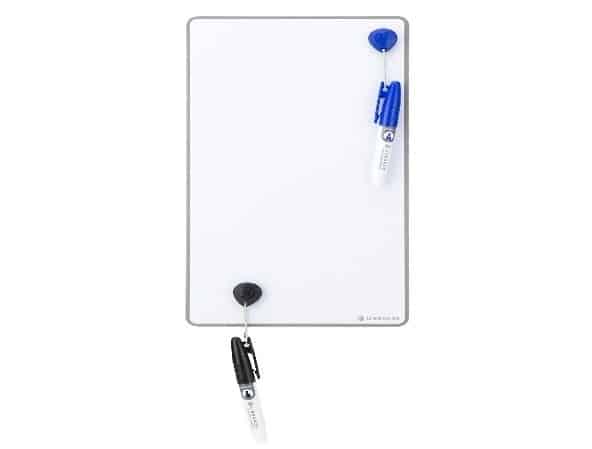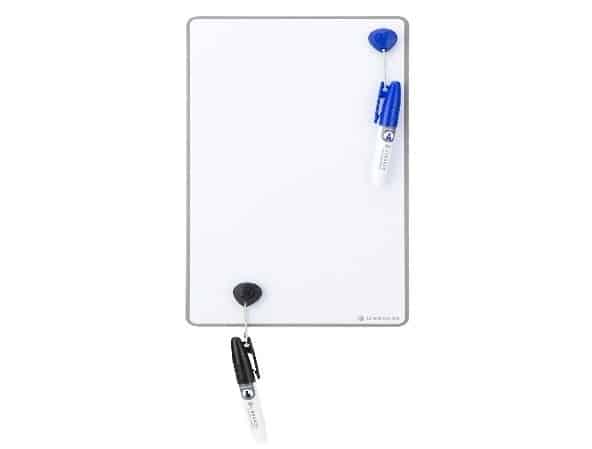 U brands Magnetic Frameless Dry Erase Board is a great choice and functional solution for frequent usage areas in school classrooms, homes, offices or any commercial space. It comes in size of 11 x 6 inches and works nicely for writing notes, reminders and similar other things. This mini magnetic whiteboard comes with dry erase markers in 3 colors i.e. red, blue and black. However, it works well with all other dry erase markers as well. It is perfect for mounting on your filing cabinets, refrigerators and can be used in offices, dorm rooms or at home. You can use any dry erase board spray or wipes to clean the writing surface of the board's magnetic painted steel surface and your notes, pictures, and reminders can be easily placed on it with the help of any board magnets as well.
Arcobis Magnetic Double-Sided Small Dry Erase Whiteboard for Desk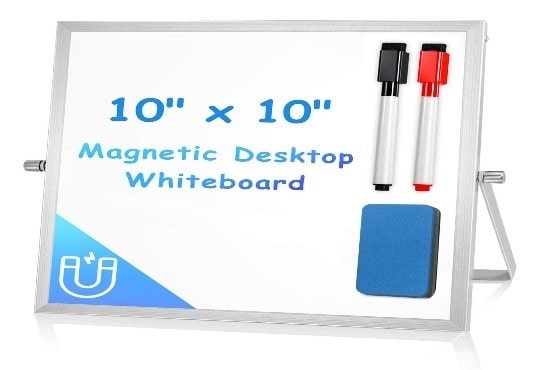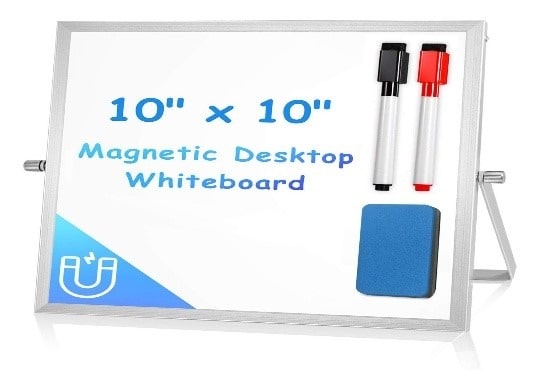 Arcobis Small Magnetic Whiteboard is an excellent idea to keep your reminders and ideas close at hand. It can be used at home or the office as a draft board or a teamwork presentation board also it can be used by kids for drawing and various learning purposes. It is available in two sizes 10 x 10 inches and 11 x 7 inches. This whiteboard consists of a 3 layer paint finish on the coating surface that allows it to be used smoothly and wipe with ease over and over again. It is very lightweight and portable having a 360 degrees adjustable knob. The double-sided feature offers additional writing space. It comes with one dry erase eraser and two dry erase markers in red and black colors with a magnetic dry erase. This portable magnetic mini whiteboard supports effective performance for daily schedules in an office, home, bedroom or school.
Board Dudes 11" x 14" Plastic Framed Magnetic Dry Erase Board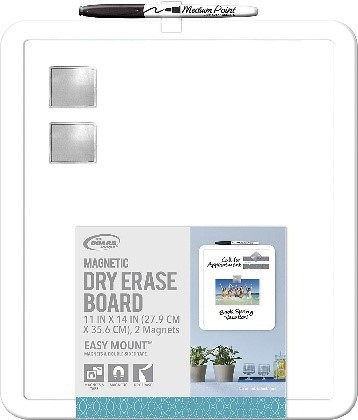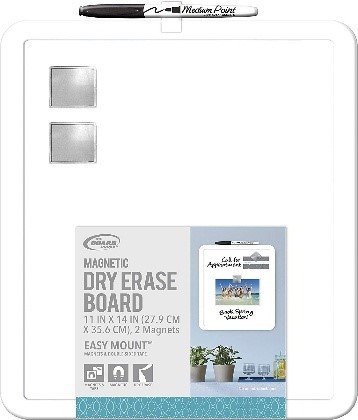 Board dudes 11 x 14 inches Magnetic Dry Erase board is encased in a white plastic frame and provides you a dense, easy-to-use and maintain writing surface that is great for writing at home or for interactivity in a classroom. It can also be mounted conveniently with the help of hardware that is included with it. Moreover, it comes with one black dry erase marker and one gray button magnet as well. This lightweight mini magnetic whiteboard is easy to write and can be erased effortlessly over and over again for rewriting.