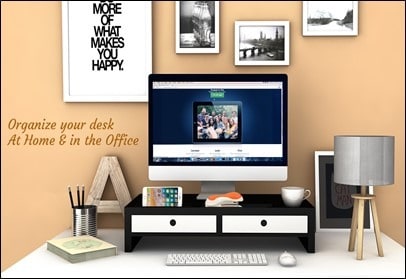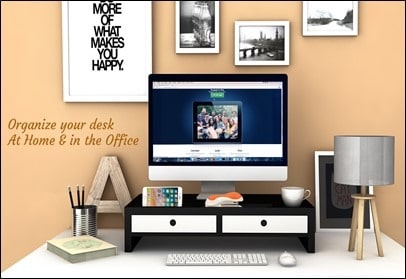 An organized workstation creates a welcoming environment for your job. You will look forward to diving right into the workload when your desk is clutter-free. On the other hand, if your desk looks like the aftermath of a tornado, it instantly creates the illusion that there is more work to do than there really is. With a computer, mobile gadgets, books, papers, and stationery crowding the table, simple storage ideas will make a huge difference. You can clear up your space with a 2-in-1 monitor stand and organizer. It offers two important purposes: workplace ergonomics and accessory organization. This helps to purge the area of unnecessary items and sort through valuables before things go out of sight, out of mind. Follow the links below to discover the best flat-screen monitor stand and organizer, to be paired with a desk lamp from our blog, Slim Desk Lamp.
The glass monitor stand helps to raise your LED screen to an optimum, adjustable height on the table. This improves working posture. The riser has a laptop holder on one side to free up space. A resourceful port hub provides audio, USB, and quick charge ports so you can connect your microphone, transfer files, and charge your device at the same time. The heavy-duty stand is compatible with various flat-screens; you can place the keyboard under it when not in use.
This wooden monitor stand is equipped with a wireless charging pad for Qi-compatible smartphones. It is designed to prevent short-circuiting through several integrated safety guards. A white LED indicates the charging status. The simplistic design organizes your workspace by removing the need for extra cables to charge your device as you work. The space underneath can be used to stow away your keyboard and additional accessories. Non-slip pads at each corner ensure proper support for the stand. A shallow groove at one side holds markers, highlighters, pens, and pencils so they do not slide over.
The metal monitor stand-and-organizer adds an elevated height to your desk to prevent eye strain and neck discomfort. It has a meshed design, so you can also use it to mount your laptop without worrying about overheating. The sliding drawer tray helps to organize folders and papers. Two storage pockets on each side can easily accommodate your iPad, smartphones, sticky notes, calculator and other stationery. You will never run out space for crucial supplies; everything is within convenient reach to note down reminders and prioritize documents.
Bamboo monitor stand-and-organizer is hand-crafted to make an eco-friendly, non-toxic product. It creates a comfortable viewing posture and provides sufficient storage through two drawers and one open compartment. There is a cup holder too, and a grommet hole allows you to safely tuck away all cords from plain view. Horizontal carve-outs are engraved to hold your stationery and keep your smartphone upright as you work. You can store the keyboard and mouse under the stand to free up desktop space when they are not in use. The riser's durability and functionality are enhanced by its sustainable bamboo design.
This monitor stand-and-desk-organizer has 3 pull-out drawers that provide a total of 10 various-sized storage compartments. You can organize paper clips, thumbtacks, stapler pins, sticky notes, markers, flash drives, etc. instead of digging through a chaotic mess every time. The versatile product can be used as standalone storage or elevated on its detachable legs to support the monitor. It is available in black, white, and silver colors. Rubber grippers ensure a non-slip balance on the desk.
The 2-tier organizer stand can support flat-screen monitors, laptops, printers, and fax machines for up to 30 kg of mass. You can slide the keyboard and mouse underneath for storage. The stand has a sunken slot to hold your smartphone upright for comfortable viewing. Books, folders, speakers, portable hard disks, and accessories can easily occupy the lower tier. The overall ergonomic design prevents backaches and stiff necks that occur due to prolonged computer use. An effective cable management hub allows you to untangle cords and connect them through individual holes. This wooden riser effectively utilizes your desk space to keep you motivated to maintain an organized workstation.
This triple-monitor riser is made of bamboo to stand the test of time through a waterproof and stain-free convenience. Its superior quality runs down to the very corner with a smooth finishing that is always safe to the touch. The viewing angle and orientation of each table can be adjusted before assembling the stand to support your multi-gaming endeavors. There are slots at the back to separate various cords as they connect your peripheral devices. The removable round plate on the center table creates added height; you can detach it to accommodate your laptop. A multi-screen facility is the dream of every programmer, engineer, stockbroker, and graphic artist for a real-time comparison. The space below can be used for storing everyday items, game consoles, and other gadgets.
The monitor stand with 2-tier storage is fire-proof and wear-resistant with smooth polished finishing. Its ergonomic design takes care of your posture and eyes, and the material is approved for being environmentally-safe. This robust organizer prevents wobbling through fixtures that hide away from plain sight. You can organize gadgets, DVDs, charging hubs, books, and stationery in the add-on shelf, with a family photo frame to personalize your workstation. It is a smart way to arrange things within accessible tiers instead of letting them scatter across the table. The vacant area below the combo stand is great for stowing away the keyboard, mouse, and pending files so you can pick up from where you left.
The adjustable monitor stand can serve as a dual-monitor riser or a table for one large flat-screen TV. The parts can be aligned to adjust their overall length and shift the central pull-out drawer to one side. In this way, your stand-and-organizer will fit on any desktop dimensions. Non-slip feet add good friction to keep the stand in place. Together with the drawer and open spaces, you will have ample storage for your office supplies. You can also place the keyboard on this slide-out tray for better typing. There is a narrow front slot for smartphone and tablet docking. It helps to streamline the work as you focus on the monitor and collaborate with your manager on the iPad. The simplistic, durable structure is a good inspiration to declutter your desk and remain committed to organized working.
The white monitor stand has effective divided storage within its compact design. You can arrange all documents and folders for easy access, and stash away your smartphone while working from home. The rounded corners and scratch-resistant surfaces allow easy maintenance. The riser puts your laptop and flat-screen at a suitable viewing angle. Your keyboard and game consoles can slide back into the bottom space to maintain an organized look. A wire hole is carved to isolate the cabling, so it does not become a daily struggle. The stand can be assembled without any tools or screws.
This foldable monitor stand-and-organizer allows you to adjust the width according to your desk space by folding either or both sides. Its minimalist design supports diagonal and horizontal pull-out trays with grooves to hold your smartphone and tablet. The lower vacant area is spacious enough for stacking papers and thin books. You can also place your keyboard in there. The space-saving stand can hold up to 50 kg of load and has non-skid feet for stable balance. This slim riser adds a visually-pleasing effect to your dorm room, encouraging you to be a productive student by keeping just the essentials on top.
The desk shelf organizer has a sturdy black design that encloses 2 white drawers. It elevates your gadgets to an optimum height, so you can multitask efficiently with comfortable eye-to-screen coordination. Grooves are incorporated to hold your coffee cup, smartphone, markers, pencils, etc. You can organize frequently-used stationery on top and store notepads, sticky notes, business cards, and flash drives in the drawers. The lower empty space can easily hide your keyboard. Instead of grommet holes, the back edge has an inward curve to organize the cords.