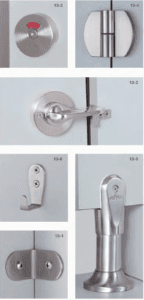 The right door hardware is essential for commercial restrooms that serve as high-traffic bathrooms at different places. These busy places can include schools, restaurants, athletic centers, and other similar facilities. Commercial bathroom door hardware includes many items ranging from door locks to spring pivots to hooks. Let us take a look at some of the companies and manufacturers who provide top quality door hardware for commercial bathrooms. 
Woodworker Express
Woodworker Express is based in Wisconsin, USA and takes pride in providing high-quality commercial and public stall door hardware at affordable prices. It has assembled a team with an industry experience of over 30 years and is responsible for delivering its products with a 100 percent guarantee at a speedy delivery. It offers products from some of the top suppliers that include 3M, Amana Tool, Amerock, CompX, Blum and many more. Woodworker Express is responsible for providing a range of versatile door hardware for commercial bathrooms such as hinge sets, hooks, throw latches for in-swing and out-swing doors, door strikes/keepers, hardware kits, mortise bottom inserts and a variety of screw packs.
Doorware.com
Doorware.com is a member of Homeware Inc. which distributes door hardware, cabinet hardware, bath and kitchen products for homes and offices. It has an experience of over 15 years in servicing and selling architectural products specifically for homes and various businesses. With its corporate office located in Florida, the USA, it provides commercial bathroom door hardware at attractive prices to its users. Its featured products include rim door locks, partition mounting brackets, spring pivots, and throw latches, all at attractive prices. All of these door hardware is made in the USA.
Robert Brooke & Associates
Robert Brooke & Associates has been shipping commercial hardware across the USA, Canada and all over the world since 1970. Located in Michigan, the USA, it is one of the leading commercial bathroom door hardware parts provider. This company offers a high-quality desk and seating hardware, grab bars, commercial door hardware, toilet partition hardware, window hardware, stair treads and many more. It sells a variety of bathroom stall hardware that includes but not limited to coat hooks, brackets, door pulls, latches, hinges, stoppers and keepers at affordable prices from the reputable brands that manufacture top quality products.
Prime-Line
Prime-Line is a renowned hardware manufacturer and a wholesale hardware distributor based in California, the USA. It works with well-known and reputable brands such as Ace Hardware, Lowes, The Home Depot, Orchard Supply Hardware, True Value, City of Hope and many more. From door stops to latches, Prime-Line offers high-quality replacement and repair parts for commercial bathrooms to both hardware businesses and distributors. Their range of door hardware for restrooms includes brackets, hardware kits, hooks, latch knobs, nuts, pivot hinges, pull handle and many more.
Partition and Stalls
Partition and Stalls has been one of the leading suppliers of commercial bathroom hardware and partition for more than 35 years. It offers top quality products from trusted and top names brands of the industry such as Scranton, AccuTec, Accurate, Ampco by AJW, Bobrick and many others. It is responsible for providing quality and durable commercial bathroom door hardware products that range from stock and custom toilet partitions to latches, door pulls and various restroom accessories. It also assists you in preparing custom orders that perfectly fit your bathroom stall installation requirements.
ALL Partitions & Parts
ALL Partitions has been serving schools, businesses, homeowners, and industry with the best quality products at the lowest guaranteed prices since 1977. Based in Michigan, USA, its products include a full line of bathroom partitions, restroom partitions, hardware for stalls and locker accessories from leading brands such as Accurate, Fiat, Hadrian, Metpar and many more. You can easily choose the type of product you want along with the brand available on their website. Moreover, it has experienced staff that offers reliable service until your job is done right.
Grainger
Headquartered in Illinois, USA, Grainger is one of leading broad line supplier of maintenance, repair and operating products in North America with extended operations in Asia, Europe, and Latin America.  It is responsible for providing a variety of bathroom partition accessories to you. You can find everything from outswing door sets and ADA concealed latch knobs to wall pilaster brackets and many more. You can also find many replacement parts here like door pulls, urinal screen brackets and more. Grainger has been consistently offering high quality and durable bathroom hardware for many years.
Global Industrial
Global Industrial has grown to be one of the industry's leaders since it started as a small material handling company in 1949. Its corporate headquarter is located in New York, USA. It takes pride in offering great customer service along with providing top quality innovative branded and private label products. Global Industrial caters small to large corporations, government agencies, institutions, and consumers. It offers a varied array of high quality replacement hardware for your bathrooms such as replacement hinges, bathroom partition replacement, door hardware, brackets, fasteners, handles, latches and many more.
Direct Door Hardware
Based in Wyoming, USA, Direct Door Hardware has been successfully providing quality door hardware products for homeowners, builders, developers, and designers since 2003. If you are looking for top-notch door hardware for high traffic buildings such as offices, hotels, or hospitals, Direct Door Hardware offers an extensive line of products in this regard. It includes commercial door hardware from renowned brands which include Schlage, K2, Ezet, Falcon and many more. Its product line ranges from door knobs, door levers, to deadbolts and hinges. You can easily get the right product for your application from its extensive list of commercial door hardware.
Richelieu Hardware
Richelieu hardware is one of the leading importer, distributor, and manufacturer of specialty hardware. It has 77 centers across North America and 2 manufacturing plants. It offers a wide variety of options in bathroom partition hardware such as door hardware kits, headrail hardware, pilaster hardware, panel bracket supports, and various other accessories. Its featured commercial bathroom hardware products include urinal screen brackets, outswing and inswing doors, door strikes, latches and many more.