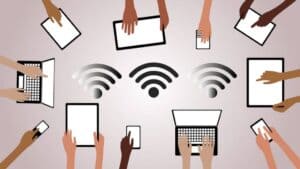 Establishing a single Wi-Fi network with multiple wireless access points (APs) allows workplaces to extend their Wi-Fi range and connect different devices to the main network. By deploying numerous access points, you do not need to use individual wireless routers for each zone. Instead, a single network can be optimized to cover a large area and allow each device in the vicinity to easily tune in and access the Internet. You must consider key factors before extending your network range in this way, and in this article, we will talk about how you can configure your network to support multiple wireless access points as well as what factors you should watch out for before setting up your network.
Why Do You Need Multiple Wireless Access Points?
There are different reasons why a company would require multiple wireless access points – which are actually standalone networking devices installed in multiple areas to extend the main Wi-Fi connectivity. Here are some motivations behind building such a network:
Bigger coverage. Large offices, warehouses, multi-story buildings, and construction jobsites require extended Wi-Fi coverage to help every device connect easily to the network. Without multiple wireless APs, there will be gaps in signal strength and recurring connectivity problems, especially for multi-story buildings where the range weakens on each floor. Installing multiple APs also overcomes Wi-Fi blind spots within a building, so this allows companies to establish a larger coverage. In most applications like construction jobsites, there is a need to stretch the Wi-Fi to outdoor areas using units that are specially equipped for outdoor compatibility – with features like weatherproofing, waterproofing, and impact resistance.
Load compatibility. Specialized equipment requires dedicated and strong connectivity which is offered by wireless access points. Applications like construction jobsites have heavy-duty loads on the network because they use different construction vehicles, drones, equipment, and computers that need lightning-fast connectivity for real-time asset tracking and updates. Therefore, jobsites frequently deploy one powerful network that can support multiple wireless access points to connect every unit onsite and in the office for streamlined communication.
Better distribution. Multiple wireless access points on a network reduce the traffic to one AP by dividing the flow among different APs, which boosts the signal strength and prevents overloading.
Backups. In case of an AP failure, you will still have multiple others that are working independently, so this is a huge plus for companies who need a reliable connection to resume their work as seamlessly as possible and minimize downtimes.
How Can You Establish A Network With Multiple Aps?
There are some standard steps to follow for establishing such a network. Here is how you can go about it.
Carry Out A Thorough Site Survey
By surveying your location with the help of networking experts, you can have a detailed analysis of your current infrastructure and its compatibility with wireless access points. This will reveal details like how many APs you should install for optimum coverage, where you can install them, and what complications you might encounter from your building's layout. Site surveys unearth key findings such as:
Potential interferences from other networks.
Signal obstruction from building materials like glass, wood, brick, and metal.
Recommended number of APs to install depending on network interferences and building materials.
Install Your Aps Strategically
With the results of the site survey, you can determine how many wireless access points are needed within your space and where you should install them to maximize your Wi-Fi coverage. Some popular brands for wireless AP devices include Linksys, NETGEAR, Ubiquiti, and Cisco. Depending on factors like room occupancy, distance from the main router, and the presence of other networks in your building, your networking expert might suggest installing one AP per target room or floor to boost connectivity. Most units are designed to be wall or ceiling mountable, so they stay out of the way and transmit maximum signals from their central position.
It is best to prioritize high-demand zones in your workspace that require the most access to the Internet – and then move to the less serious areas so that the network configuration meets the required capacity efficiently. It is equally important to install APs with just the right distance between them to prevent signal disruption, interferences, and losses. Also, the length of ethernet cabling between two access points should be under 328 feet for optimum performance. In longer configurations, fiber optic cables can be used instead.
Manage Your Aps With A Central Controller
AP management is a key administrative task that requires either a hardware unit or a software app to control the access points in a given network. Some access points have built-in controller software that you can use to manage all the installed APs in your building. You can also find controllers that are available as standalone hardware units designed to manage multiple wireless access points. The third option would be to use cloud-based apps that serve the same purpose and enable remote AP management from wherever you are. Your choice of controller depends on your overall network configuration and what your technician recommends in terms of speed, access, and reliable AP management.
You can access and control all the deployed APs on the same interface, which saves time and effort because you no longer have to configure each AP individually. This comes in handy during first-time configuration, troubleshooting, and rebooting scenarios.
In addition, a controller will let you assign one identifier (SSID) and password to all your wireless access points to ensure seamless transitions between rooms, floors, indoor/outdoor spaces, etc., which means that you will not have to sign in to a new AP each time you switch rooms or move around. This is a huge must-have for a network that hosts multiple wireless access points.
Another benefit of using a controller is that it can automatically select the right channel for each of your network's wireless access points. By doing so, issues like overlapping channels, signal interference, and network disruption can be minimized and prevented. These issues are quite common in networks with multiple wireless access points because the adjacent APs tend to overlap and slow down the overall performance.
The DEWALT Jobsite Wi-Fi system
For construction-specific networks, the DEWALT Jobsite Wi-Fi system is a good example. You set up your main AP via an ethernet cable to establish the primary Wi-Fi in your jobsite trailer. Then, additional DEWALT Jobsite Wi-Fi access points can be installed all around your jobsite for extending the main Wi-Fi range from the trailer to each designated location. This configures your jobsite network with multiple wireless access points, and the best part is that DEWALT APs are built to last the rugged construction environment.
Their Wi-Fi connectivity self-adapts to the construction process and can reconfigure to work around raised walls and other emerging obstructions. If one AP fails, the others can resume seamlessly around this unit and ensure uninterrupted Wi-Fi access to everyone onsite. DEWALT wireless APs have an IP67 rating, so they are resistant to water and dust. They can easily withstand tough weather conditions and also feature impact resistance, which is great in the unpredictable construction world.
DEWALT jobsite wireless access point
With reliable Internet access through DEWALT, construction teams can stay connected in real-time and collaborate using multiple devices on the network – keeping the jobsite connected to its cloud for everyone to access regardless of where they are.
Conclusion
Adding multiple wireless access points on a network requires a professional site survey to first understand the feasibility of such a deployment. This gives you all the idea you need about the network's design and configuration, so you get to know whether or not your building is compatible with the given range and how many APs are needed for optimum performance. When deployed correctly, such a network can help you extend your Wi-Fi coverage and support more devices on the same network without compromising the signal anywhere. If you have a large establishment, make sure to consult network specialists and get tailored advice on how you can optimize Wi-Fi connectivity at the lowest cost and maximum value for your business.