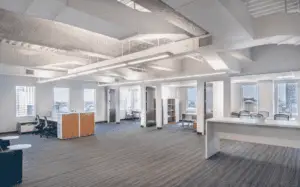 Image credits: Feldman Equities
Commercial renovation projects allow businesses to refresh their corporate perspective. They can be remodeling projects for offices, hospitals, retail stores, gyms, banks, and other business settings. In particular, office building renovations are quite important because they can help you enhance the condition of your existing building without needing to relocate as a business. Office renovations have massive scopes in the commercial world and offer the perfect opportunity to cover both minor and large-scale upgrades.
The best part about renovations is that they can be implemented with phased occupancy options if you do not want to incur unnecessary business downtimes. In comparison, a full-scale construction project for business relocations would be too taxing on the workforce and the business in general, bringing things to a halt until the new building is constructed. In this article, we will discuss the stages, benefits, and inspiring ideas behind office renovation projects – and we suggest keeping your cup of coffee nearby, as it will be a lengthy read!
Office Building Renovation
Definition and types
In general, an office building renovation refers to the changes added to an existing building in order to improve its interior and exterior aspects. It can be a very tenant-specific project because each business has different corporate needs. Unlike ground-up construction where the work begins from scratch, an office renovation simply adds to the already constructed space, so this is something you would plan for the ongoing improvement of your property. Apart from ongoing changes that you might plan down the road, such a renovation can be categorized into 2 main types:
A capital improvement renovation: this is an owner-planned, building-based renovation in which the main building itself undergoes physical changes – irrespective of the kind of tenants who occupy the building. The renovation targets common areas that are shared by or accessible to all the office tenants of the building. So, everyone benefits from these improvements, and you can expect a capital improvement project to include amenities like office gyms, lounges, improved lobbies, updated façades, renewed landscapes, parking lot additions, etc.
A tenant improvement renovation: this is a tenant-based renovation, and unlike the general scale offered by capital improvements, it tackles localized improvements for a specific tenant. So, only you and your business will benefit from such a renovation, and the other office tenants in the rest of the building will not have access to these features. When you lease an office space, you might choose to add some of your own commercial touch-ups to make it more suitable for your business. It could be an empty shell space with no prior configurations, in which case you are free to customize the renovation scope. If the previous tenant has left behind core amenities, you can simply reuse them and only renovate areas that do not meet your standards. Typical tenant improvements include lighting updates, wall renovations, technical installations, window upgrades, creative workstation layouts, and conference room additions.
Reasons to renovate
As a business owner, you have to be clear about which areas of your office building need attention.
There could be functional aspects that require an upgrade, or you might choose to refresh your design elements for better aesthetics. Quite often, if there is one major red flag that needs immediate repair, business owners conduct a wider renovation search to identify potential hidden problems that could grow into something bigger. By hiring experienced contractors, you can evaluate the needs of your office building in order to understand other ways to renovate the space – in addition to the ones you have already identified. You can have different reasons to renovate the building, and some of the common motivations behind such a project include:
Workforce expansion which leads to office expansion.
Collaborative and coworking needs.
Safety and security upgrades.
Storage expansion.
Recreation scope through office gyms, lounges, cafés, etc.
Smart technologies for office automation – including areas for futureproofing.
Renovation benefits
An office building renovation has lots of long-term benefits for a business. It is a great opportunity to work on the structural, technical, and aesthetic elements of the building so that they reflect your corporate perspective better – whether you are moving in for the first time or making improvements down the road. Office renovations can benefit both the building owner and the tenant, so you might be surprised at how achievable a win-win scenario can be! It all depends on your negotiation standpoint and how well you understand your project scope, which is why you need to closely work with your real estate agent and financial advisor for this part. The following are some key benefits for both parties.
Benefits of office building renovations for building owners:
Office renovations increase the spatial appeal of a building, making it more marketable for prospective tenants.
A well-renovated office ensures consecutive leasing, so the building always stays in high demand and the occupancy rates become more promising – which also means regular rents for the owner.
By working on capital improvements, owners can increase their property values and boost their commercial real estate visibility.
By offering tenant improvements, owners can optimize the space for all future office tenants, as these physical improvements are transferable from one tenant to the next – so the changes added by the current tenant can be retained according to lease agreements and reused by the next tenant. This ensures faster move-in times which is always a plus for both parties.
Benefits of office building renovations for tenants:
Custom and ongoing renovations can help you bridge various gaps in your workforce productivity and business operations. So, by adding the latest technological upgrades, improving the workspace layout, or redesigning the interior, you can create a more welcoming environment for your employees.
Office renovations are an excellent opportunity for business rebranding, particularly if you intend to completely transform the look and feel of your business.
This is also the perfect chance to go green as a business and implement energy-efficient solutions. If you plan to add mezzanine floors or create additional rooms, most structures can be obtained as prefab modules that are manufactured offsite and simply assembled in your office, which opens the scope for sustainability and efficiency in your renovation plan. Therefore, green-conscious renovations make it easy to adapt your existing space without costly improvements and time-consuming processes.
Office building renovation process
Every office renovation project undergoes some general stages from its inception right through to its final handover. You can expect your project lifecycle to unfold in the following ways.
1. The planning stage
Planning is when you sit down with your commercial renovation teams and brainstorm ideas for launching a successful project. This includes identifying and finalizing the renovation needs that apply to your business and will benefit it, so corporate relevance is a crucial part of the planning process.
Since this stage really acts as a backbone for your project, it is important to hold lengthy and detailed collaborations with your teams to cover everything from a smoothly running project to potential backup plans you might need along the timeline. Here are the key areas that you would focus on:
Assembling the right, licensed commercial renovation/remodeling team that includes contractors, designers, architects, engineers, technicians, plumbers, etc.
Identifying which parts of the office need to be renovated.
Finding out which of your employees or departments will benefit from these renovations.
Acknowledging technical and sustainable gaps within your building and identifying ways to future-proof your business.
Discussing the architectural changes you can make while staying within the building codes.
Confirming all applicable building codes for your office renovation to make sure that you only add improvements that are approved for code compliance. This includes codes that cover mechanical, electrical, and plumbing (MEP) areas, architectural aspects, and cosmetic upgrades – particularly if you need to bring your outdated building up to a modern standard.
Assessing your neighborhood to understand the potential impacts of adding parking lots, landscape elements, horizontal/vertical expansions, and so on.
Identifying the need to move from workstations to open and dynamic coworking spaces based on your company's hybrid patterns, especially if you already have a mix of remote and in-office employees.
Setting initial budgets and schedules to obtain a timeline, a project size, and a financial estimate to determine your project's feasibility.
Giving your next-door tenants a heads-up on your proposed renovations, the accompanying noise, and the general project duration.
Factoring in renovation challenges such as material and labor shortages and weather alerts – with relevant backup plans to ensure timely procurement, inspection, and approval.
Understanding how the renovation will disrupt your office work. This includes addressing confirmed business downtimes with ways to distribute the occupancy statuses throughout the project.
2. The design and drawing stage
All of the scribbled notes from the planning stage will receive a proper roadmap during the design stage. This is when you shape your ideas as construction drawings for the first time, so you can visualize your proposed changes on the screen. Your designers, architects, and engineers will typically use:
Conceptual designs for creating a bird's-eye view of your renovated office building without factoring in the construction details. This is where you get to play with the before-and-after results, so conceptual designs are mostly geared towards forming the initial look and feel of your improved office.
Schematic designs for diving right into the details ignored in conceptual designs. These schematic drawings zoom in on specific details like café styles, lobby finishes, workstation layouts, and so on. This builds a more realistic perspective, as schematic designs take costs, project complexities, and schedules into consideration.
Final construction drawings, 3D renderings, blueprints, and other sketches that will actually be used during your office building renovation – after all the drafts are refined and approved.
3. The renovation stage
Now that the notes and drawings are complete, it is time to put down the pencil and stylus and pick up the hammer. Your ideas have traveled from your mind to the paper to the screen by now, so the next pit stop is your actual office building. All of the renovations you planned and got approved during the planning and design stages will be worked into your building, followed by key inspections after each milestone to check for safety and code compliance. Here are some popular tenant improvements for office spaces:
MEP upgrades for custom lighting, exterior lighting, touchless fixtures, etc.
Glass panel installations for wall-length windows, skylights, and office partitions.
Demolitions for open workspaces.
Ceiling, wall, and millwork upgrades.
Sustainability aspects through better HVAC efficiency, solar panel installations, natural light maximization, recycled prefab structures, etc.
Updated design ergonomics for better functionality and foot traffic.
Safety improvements that pass workplace audits – especially for older buildings that require extensive renovations to become safe for their employees to work in.
Cosmetic touch-ups for interior and exterior paintwork and the general décor.
Rebranding changes that cover both functional and aesthetic aspects of your office building.
Exterior facelifts through façade restoration and landscape enhancements.
4. The handover stage
Once the office renovations are in place, you will take a walkthrough with your contractor and address punch-list elements that still need some work – after which a final inspection will be done to confirm safety checks and code compliance. On approval, you will get a completion certificate as the official document stating that all your proposed renovations have been added to the office building, and they all meet the relevant codes, so it is safe to occupy the building and resume your work.
Office building renovation project ideas
Design is one of the major renovation aspects for an office building, particularly for an older one that has never been renovated before. Spaces that need some recreational scope really encourage outside-the-box thinking for business owners. You can add creativity to an otherwise boring office interior by making it feel more open through wall-length windows, skylights, and neutral color palettes for the walls and ceilings – accompanied by pops of color from the furniture itself. Adding geometry to the office interior will make the place come together with more impact. By reimagining the outlook for your office's lounge, breakroom, or café, you can isolate the main creative design to just the recreational areas of your building. This comes in handy if you prefer more serious workspaces but want to balance out the office monotone with vibrant designs outside the main work area.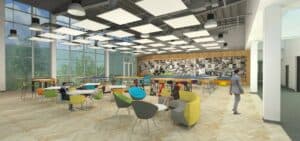 Image credits: Berliner Architects
The next inspiring idea is about design minimalism in your office building. Open and spacious layouts offer more freedom for minimalistic approaches. You want a workspace that is roomy and purposeful rather than blank and meaningless, so it is important to find the right balance that suits your corporate image. When done right, minimalistic interiors can easily combine workstation layouts with lounge areas. The mental image might be cramped and cluttered at first, but when you think about it, this is actually a clever use of space for an office with half the employees working from home. By rearranging the desk requirements, you can fill the gaps with cozy sitting areas to add some depth and purpose to the overall minimalistic design. Combine this with tall glass windows, a dynamic ceiling, and subtle pops of color, and you have a well-executed renovation project for your office.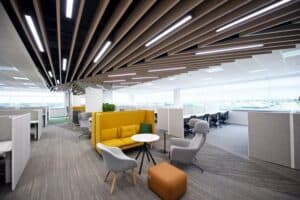 Image credits: IIS Space
Coming to technological renovations, your office building can benefit immensely from workspace integrations that appeal to tech-savvy audiences. An office building renovation is a great chance to build smart workspaces with touchless features and app-controlled amenities. If you are updating your ceilings and floors, you can also choose acoustic treatments for improved sound absorption and sound isolation within your building. Technological improvements go hand in hand with aesthetic upgrades, as smart offices have a futuristic feel about them, so you simply cannot make do with an outdated interior. If your technological aspects are already quite expensive, you can plan the design elements more carefully by only renovating key areas that would make all the difference – such as windows, partitions, paintwork, and ceiling treatments.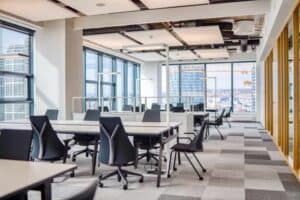 Image credits: HB Reavis
A mix of rustic and modern is another trending design inspiration these days. Office workspaces that combine industrial infrastructures with urbanized potential walk some fine lines very effortlessly. There is something about the surprise element from an exposed industrial ceiling that makes the space come together so well. Since the upper design is so raw, it leaves enough scope for creativity everywhere else, especially through colors, geometry, and plants. This is just the kind of office that allows employees to look forward to going to work. The layouts do not have to be bulky or overdone – the industrial ceiling and walls already take care of that – so you can focus more on airy and light designs for the main workspace.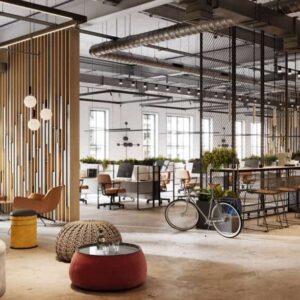 Image credits: Alvarez via iStockphoto
The industrial theme is also popular because of the interesting wood, brick, concrete, and metal focal points it creates. This takes functional minimalism to a whole new level and adds to the overall corporate enrichment you are aiming for. Industrial interiors focus on the use of materials – like brick and metal – as their main design inspirations for showcasing these features rather than covering them. The result is that you can confidently incorporate brick walls, exposed pipework, and other rustic features into the design itself. So, your office renovation would just go around these elements unless there is a need to improve their cosmetic effect. This can cut down your renovation budget and allow you to redirect your investments to other areas of the building.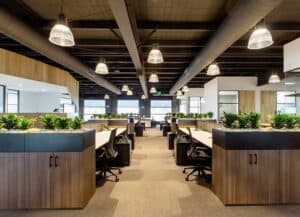 Image credits: Lisa Atkinson
Our final office building renovation idea will focus on exterior improvements. It is a common mistake to overlook the exterior design updates for an office, especially if the interior has taken up too much time and budget already. For this reason, make sure to address your exterior building early on during the planning stage itself so that your renovation teams can work on relevant improvements accordingly. Exterior renovations can include various facelift projects that restore the façade, update the landscape lighting, refresh the paintwork, or add window treatments such as tinting. If you are aiming for energy efficiency in your building, you have to upgrade the building skin to help it retain temperatures better than before. Otherwise, your HVAC and automation improvements will not perform to their best potential, as the outer building is not equipped to prevent energy losses. Depending on your specific office building type and outer climate, your renovation contractors will help you pick the right exterior materials for energy efficiency.
Building panels are an increasingly popular option for creating such optimized building wraps if you do not want to use raw materials like bricks. Without revamping the main architecture, you can choose to install metal or resin panels to wrap the exterior more efficiently. Also, companies like Campbell Window Film provide façade re-imaging solutions that use compatible exterior window films based on your requirements for energy efficiency, aesthetic appeal, and lasting first impressions. These outer upgrades add to the existing building configurations and simply install a layer of panels on top of them – which is both budget-friendly and time-saving.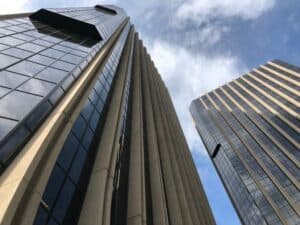 Image credits: Watt Plaza via Campbell Window Film
Conclusion
And that's a wrap on office interiors and building wraps! Office renovations can be as small as changing the paintwork and as huge as resurfacing the entire façade. By choosing licensed contractors who have a rich portfolio of relevant experiences, you can ensure the validity, transparency, and success of your project. This is also useful for custom specifications in terms of creative designs. If you want to emphasize the "industrial raw" in your design, an experienced contractor will help you plan other renovation areas while giving the wood, brick, and metal a center stage. Similarly, if you intend to move from traditional to modern, a good renovation company will know how to support that transition by keeping things code compliant. There is no room for mistakes in these projects – as the legal implications are lightning-fast! Therefore, hiring professional teams will take away the need for guesswork on your end, so you can instead focus on what you do best: build and adapt your business.