Staying organized is one of the most important ways to stay productive. This does not only apply to the files on your computer but your office as well. A cluttered desk is a cluttered mind, hence you need an office caddy organizer to stay on the task and keep all the items in place at the same time. This saves a lot of your time and makes your work easier by allowing you to keep different things in specific places on your office desk and retrieve them easily when you need them. Let us take a look at some of the best office caddy organizers that will help you in keeping office accessories well organized.
Rotating Office Supplies Desk Organizer Caddy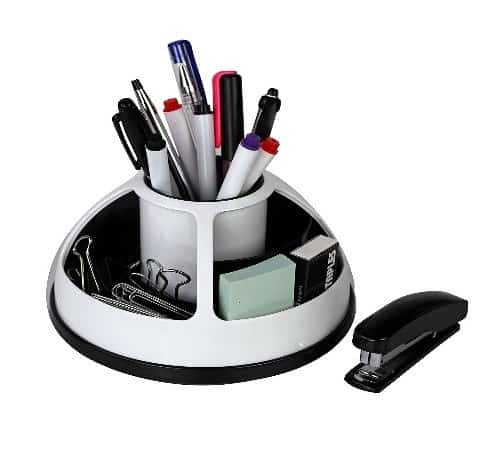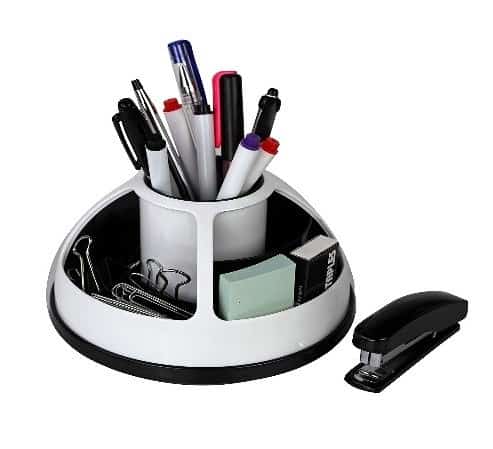 This Rotating Office Supplies Desk Organizer Caddy by O-Life is one of the ideal choices for keeping your stationery items easily accessible by a rotating system. This rotatory storage system offers 360 degrees spin with its usage not only limited to offices only but can be used alternatively in classrooms for pens and pencils, in crafts room for storing craft supplies and even more similar places. It measures 3.6 inches in height and 6.4 inches in width and comes with sufficient storage capacity by featuring multiple compartments to store a range of stationery supplies such as scissors, pens, erasers, paperclips and charging wires. It comes in a black and white color scheme that is suitable for any working environment. This office caddy organizer serves the purpose of keeping your desk tidy by keeping all the stationery items in one place.
Mesh all in one Desk Caddy Office Organizer by Rambue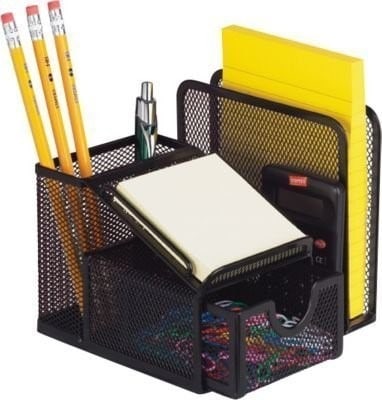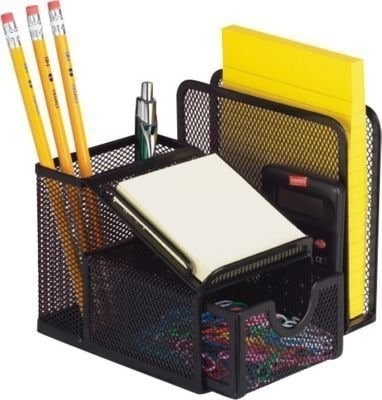 Rambue Caddy Office Organizer helps you in making extra space in your office by organizing your pens, pencils, scissors, notebooks, writing implements, document folders and envelopes with ease. It comes with simple and elegant design in black epoxy with a size of 4-1/2" H x 4-9/10 W x 5-3/10" D. It is constructed from sturdy mesh wire and features three compartments for storing supplies and two slots for keeping file holders. Moreover, it has a drawer below for holding small accessories like paper clips and staples. Its unique and contemporary design blends with any type of office decor making it a great buy which helps you stay on top of your desk clutter.
EasyPAG Mesh Desk Organizer Caddy with a Drawer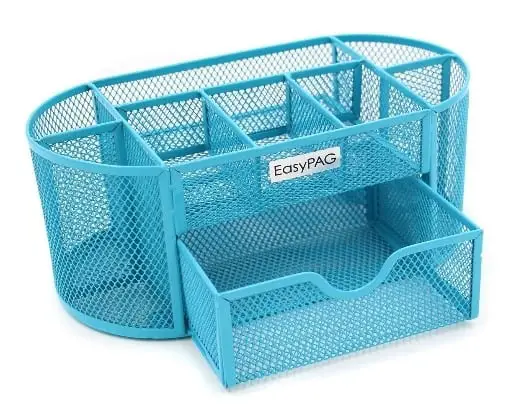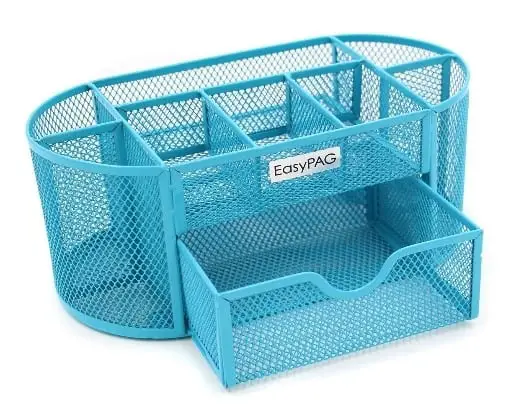 EasyPAG Mesh Desk Organizer Caddy is another great choice for creating an organized and neat office setting. This 9 Component organizer is made from sturdy mesh metal along with a solid metal base with an overall size of 8-3/4" x 4-1/4" x 4". It comes with a drawer for expandable storage space which is 5 x 2 x 4 ½ inches in size. It sits firmly on your office desk by soft four soft pads on its bottom that protects your desk and features round edges that offer additional visual appeal. This desk accessory holds perfectly your pens, paper clip, staple puller, post-it notes and many more office supplies close at hand. The EasyPAG Mesh Rotatory Organizer provides different compartments for storing small stationery items excellently.
AmazonBasics Mesh Desk Organizer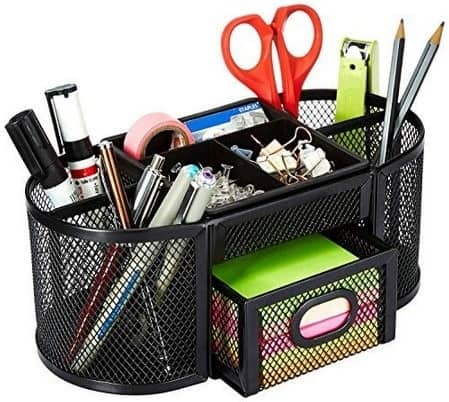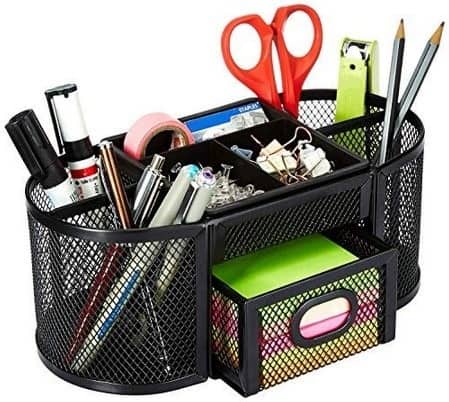 AmazonBasics Mesh Desk Organizer helps in keeping office accessories within reach and convenient to find. This office supply caddy is constructed from black metal mesh wire and is divided into compartments for you to store markers, pens pencils, and scissors. It features an additional three compartments on the top for placing small accessories like push pins and paper clips. Below this, it has a space for keeping 3 x 3 sticky notes as well. This office caddy organizer has an overall size of 4.5 x 9.34 x 4 inches (LxWxH). It comes in nice packaging and serves the purpose of storing by proving to be a convenient alternative to rummaging around in drawers in search of office supplies when you need them.
PAG Wood Desk Organizer Office Supplies Caddy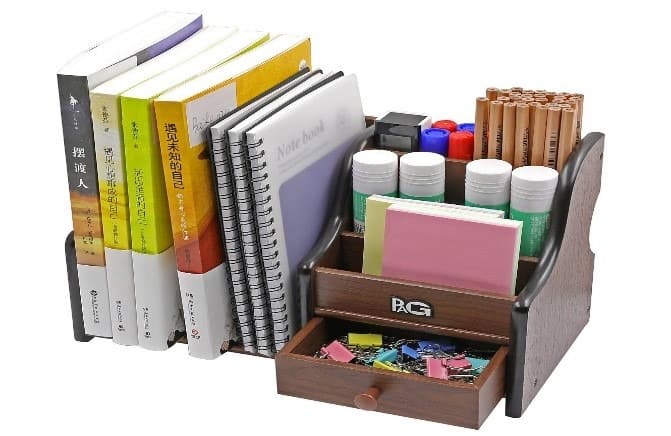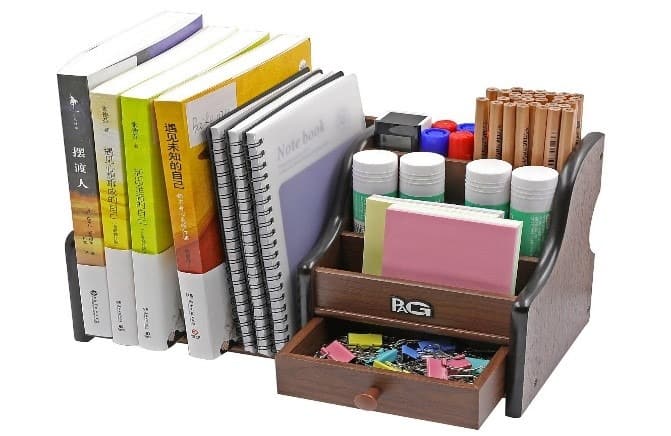 This PAG Wood Desk Organizer Office Supplies Caddy is another excellent choice to store and organize small things properly. It is made from environmental protected materials that are safe and non-toxic with a size of 11.02 x 5.71 x 6.3 inches. It can be easily set on any desktop, coffee table, or dresser and can perfectly store pens, stapler, sticky notes, scissors, ruler, magazines, notebooks, and other small things. This PAG Wood Desk Organizer Office Supplies Caddy features 4 compartments, 2 shelves and 1 drawer that makes it suitable for offices, living and study rooms. You can store everything in it from pens, pencils, and notepads to makeup brushes and cosmetics. It is one of the best choices for you as this classy wooden office caddy organizer keeps your items safely secured.
Rotating Black Metal Mesh Desktop Organizer Caddy Rack by MyGift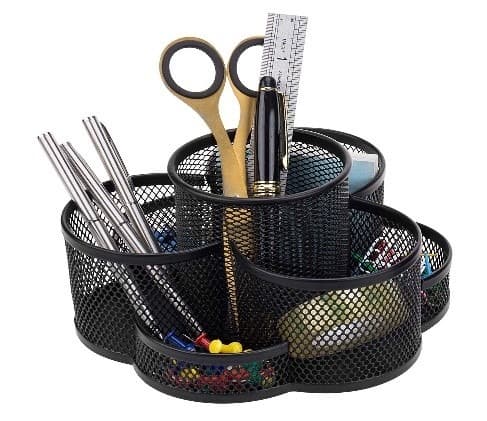 This Rotating Black Metal Mesh Desktop Organizer Caddy Rack by MyGift is a useful office supplies organizer. It features a sturdy metal frame, metal mesh wall and a black finish which keeps your items stored safely and your desktops look clutter-free. It measures approximately 4.25" H x 6.5" D. This caddy organizer offers 7 compartments which can keep everything from pens and pencils to rubber bands and rulers. It comes with 1 tall compartment in the middle which is surrounded by 3 medium-sized cups and 3 small cups. Additionally, it can rotate up to 360 degrees that provides you easy access to all your office supplies, makeup tools or more, whenever you need them.
DecoBros Desk Supplies Organizer Caddy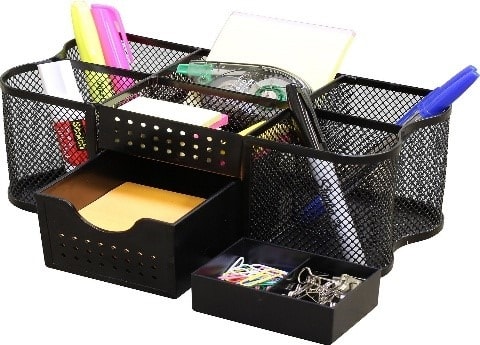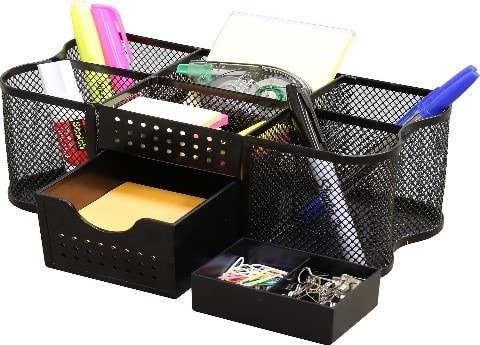 DecoBros Desk Supplies Organizer Caddy is also one of the perfect options that provide you considerable assistance in organizing small office desk accessories such as pens, staples, and notes, etc. It is made from sturdy mesh metal and its mesh oval pencil cup offers extra organizational features. It has five divided compartments in which you can store all of your writing tools. Additionally, it has two shallow compartments that can hold small items like clips, pins and other small stuff. This DecoBros Desk Supplies Organizer Caddy also has a small drawer in front that can be pulled out easily and can store 2.5 x 3 inches notes.