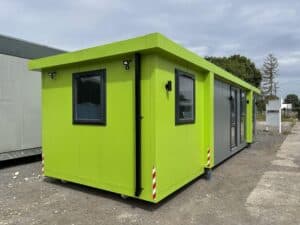 Image credit: Portable Offices
New technologies and growing business trends have created a need for flexible, easily adaptable workspaces that companies can afford to build and reuse when needed. This is where the idea of mobile structures comes in, and portable office cabins are one example of how businesses can organize temporary workspaces that are moveable, reusable, and versatile. It has become a popular concept for space optimization and relocation purposes, especially for those businesses that move frequently and have strict budgets. Here is how these cabins can make a great investment for you as a business owner.
Portable Office Cabins
Definition
c It is preconstructed and assembled offsite, lifted by a crane onto a hauling trailer, and then delivered to your location. The cabin is installed on concrete pads or blocks – and sometimes wheels – to ensure portability, which is the primary goal. For this reason, such cabins are also called prefab cabins, modular offices, mobile cabins, and office containers.
There is more focus on functionality and efficiency rather than design. Portable office cabins can be moved, updated, installed, dismantled, and even extended to include more cabin space. It is a great alternative to permanent buildings for those who are looking for short-term workspaces that they can "take with them" wherever they go – as mobile cabins are highly configurable and can be transported to any location, ready to be organized and reassembled as needed. This also means that there is more freedom in terms of construction permits because the structure is portable and does not have a permanent footprint. However, you do need to check your local laws to make sure that your cabin's placement and technical features match the rules.
Since a cabin is generally a small structure, it makes a very affordable option for businesspeople who prefer office minimalism and do not care much about creativity or décor aspects. With self-contained workspaces, you can focus on the immediate office setting you need without worrying about renting a full floor or a building – most of which will probably remain unoccupied. You can also decide whether it will be more feasible to buy/rent a new cabin or refurbish existing ones depending on the needs of your business.
Cabin Materials
Portable office cabins are very affordable and durable thanks to the materials used in their construction. The main cabin frame can be made of wood, steel, or concrete. These cabins frequently use eco-friendly materials and hardware which is great for businesses planning to go green. You can select the type of materials you want for different features like roofs, siding, flooring, doors, and windows – most siding options include urethane, vinyl, and metal depending on personal preferences.
Applications
You can use portable office cabins for several applications such as:
An office complex made of multiple, stackable cabins.
Construction site offices using mobile containers.
Guard offices.
Temporary workspaces during office renovations.
Cabin Features
You can customize the features you want in your portable office cabins. This includes specifications for size, technology, insulation, weatherproofing, durability, ergonomics, and overall functionality. Here are some examples of cabin features found in most portable cabin catalogs – the more technical the feature, the more expensive your cabin will cost.
Structural durability with sturdy materials like steel and concrete.
Foldable designs for improved shipment and transportation.
Stackable units for office "floors" and added space.
Complete insulation.
Custom flooring.
Custom roofing.
Partition walls or open plans.
Mechanical, electrical, and plumbing (MEP) systems.
Sockets, switches, cable ducts, etc.
Proper lighting.
Functional HVAC.
Kitchenettes.
Toilets.
Doors and windows.
Roller shutters.
Paintwork.
Earthquake resistance.
Benefits Of Portable Office Cabins
You can reap several benefits by investing in portable office cabins. The following are some of the top benefits of using them as a business organization.
1. Bespoke Convenience
By building portable or prefab office cabins, you can specify exactly what you need for your office – nothing less and nothing more.
This eliminates unnecessary features that you may or may not use at all, which creates a space tailored just for you. Bespoke office environments also deliver the right square footage to meet your goals so that you do not have to pay for any unused or unoccupied space.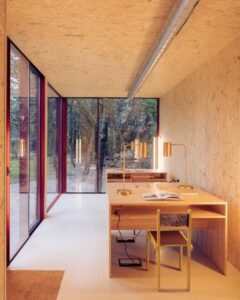 A prefab office cabin "Tini" by Delavegacanolasso via Dezeen
2. Portability
Portability is – of course – another huge benefit. Since the cabin is tailor-made for your company, you can use the same mobile office even if you relocate because you no longer need to find a suitable place to rent – your portable office goes with you! These cabins are designed to move easily from point A to point B, and if you have a stackable design, each unit can be removed and transported individually to your next location. Overall, the on-the-go convenience of these cabins is simply remarkable.
3. Versatility
Prefab offices are truly versatile, which makes them adaptable and highly reusable. You can reuse the same cabin over and over to fit the emerging needs of your business by relocating it, adding a new cabin "floor", improvising it as a temporary reception, turning it into a dedicated storage room, and so on. Since portable office cabins are mostly used for short-term purposes, they are designed to ensure workspace adaptability to help owners reuse them as many times as needed.
This comes from their simple, cookie-cutter style that includes four walls, a complete roof, proper flooring, and functional amenities – all of which can serve multiple office applications and optimize the available space. Moreover, office cabins are usually available as stackable units to support vertical and horizontal expansions while still maintaining the singular, cohesive look of your workspace.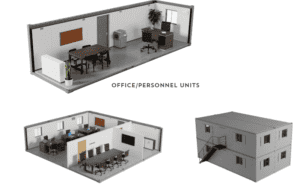 Individual and stackable modular offices by Stackright
4. Cost-Effectiveness
You can find the best portable office cabins for your company at much cheaper rates than buying or leasing a permanent building. The prefab nature of these cabins means that they are constructed and assembled offsite before being delivered to your location, which saves a lot of ground-up construction costs and permit fees. Also, since each cabin is built to bespoke perfection, you pay for exactly what you need and nothing more, so there are no extra costs covering unoccupied space, extra windows/doors, unused utilities, etc. This makes prefab offices a very budget-friendly endeavor for expanding your business without relocating and assigning offices to new employees without renting additional square footage. You get to save around 50% of your office costs by investing in good mobile cabin designs.
5. Durability
Portable office cabins are made of durable materials like steel and include metal siding for better resistance. Most cabin materials include weatherproofing treatments to help the cabin last longer. You can also ask for heavy-duty locks to be installed on the doors. This makes your office environment safe and reliable to work in for all seasons.
6. Earthquake Resistance
Portable offices can be built and installed with earthquake-resistant technologies. This is particularly helpful for those businesses that operate in earthquake-prone areas, offering a necessary precaution against these disasters while also helping with safe, makeshift spaces to use in the aftermath of an earthquake.
7. Faster Move-Ins
Offsite construction and assembling also make it easier and quicker to move into your prefab office. Compared to renting and improving a permanent room, floor, or building, you can save half the time by using portable office cabins, which is great if you need to move in quickly and start working. Once delivered, it is even easier to have them installed on your location – and they are ready to use!
Portable Office Cabin Manufacturers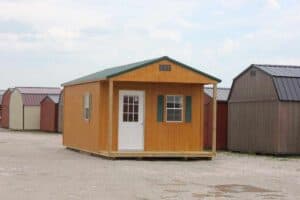 Countryside Barns specializes in different shed designs including portable office cabins. It serves the Midwest areas including Chicago, St. Louis, Indianapolis, and Milwaukee.
You can use its Shed Designer online editor tool to customize your cabin features and receive tailored quotes. The design tool lets you choose various details such as:
Cabin size
Siding material (urethane, paint, vinyl, or metal)
Roofing material (metal or shingle)
Number of doors and windows
Door and window styles
Flooring options (heavy-duty, seamless rubber, or insulated)
Interior features (HVAC, MEP, insulation, finishes, framing, trim, etc.)
Exterior features (ramps, planks, garage doors, and other hardware)
Once you specify all the requirements and drag and drop the key features for your cabin, you can visualize your office space more clearly on this 3D editor. The tool then displays a summary of your cabin's specifications, after which you can place your order. You can also take 360° tours of the cabin's interior and make the necessary alterations before confirming your design.
At Countryside Barns, the smallest available cabin size with standard specifications is 8′ x 16′ which costs between $4500 to $6000 in ascending order across urethane, paint, vinyl, and metal. The largest cabin size is 14′ x 44′ and costs between $15,500 to $18,500 based on your choice of materials (with metal cabins being the most expensive).
Lofted cabins deliver extra floor space and are more expensive per material. You can expect to pay an additional $2000 on the above ranges. You can order side-porch-styled cabins as well, and these tend to be the most expensive options for portable office cabins – ranging from $7000 to $28,000. All of the above cabins are strictly shell-only designs and can be finished out using the features you select on the editor tool.
Countryside Barns offers different financing options like rent-to-own and loan installments to help you out on this venture. Depending on your local building rules, you can choose the most feasible cabin designs and payment methods for your business.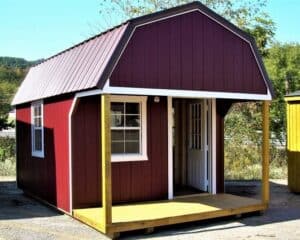 Operating in Virginia, Tennessee, Kentucky, Georgia, and Ohio, Timberline Barns is another great source of sheds and cabins for multiple applications – including office spaces. The local shed builder offers custom designs and amenities to configure your offices the way you like. You can use its 3D Builder tool to customize your portable office cabin online by entering details like:
Zip code for tailored estimates
Cabin style (lofted, custom, classic, with porch, etc.)
Siding material (painted, urethane, metal, or treated)
Cabin size
Door and window specifications
Roofing materials (metal or shingle)
Colors
Interior features like utilities
Flooring type (plywood, insulated, or others)
The 3D builder tool is great for visualizing your office cabin and refining its details until you meet a reasonable estimate. Timberline Barns offers several options for portable offices, and you can choose them based on the workspace needs of your business. For example, its utility office cabins are versatile units built with durable materials and often include a 4′ or 6′ porch. They make efficient alternatives to renting a space for business expansion and are quite affordable to build and install. You can customize both design and hardware options before confirming your order.
In general, a standard 8′ x 12′ portable office cabin will cost you around $4000, whereas a 14′ x 40′ cabin will cost up to $16,000. Timberline Barns also builds lofted cabins to help you get extra floor space for your office. These lofted cabins come with most of the standard features of utility office cabins – with the addition of a loft to support office storage or sleeping quarters. Lofted styles generally cost $1000 more than their standard counterparts.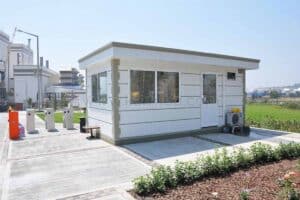 Karmod is a Turkish brand specializing in prefabricated technologies and has a global outreach. It is a leading manufacturer of prefab buildings in the US. The company offers a full fleet of prefab structures, including mobile office trailers, mobile storage units, portable office buildings/containers, and similar short-term units. You can choose both single cabins and multi-purpose office complexes made of multiple cabins. You get to customize your office amenities and features depending on what your offices require.
It is a one-stop builder of temporary spaces, providing affordable solutions and helping you get the best out of your makeshift office needs. The brand has 3 primary goals in prefab technologies – quick production, quick installation, and affordable prices.
Here are some examples of temporary office structures you can find at Karmod. They can be used interchangeably because of their similar functionalities, but this is how they are generally classified:
Prefab worksite buildings. These are portable cabins that can be used as offices, kitchens, cafés, or WCs within worksites – so you can either use them for your main office space or reserve them for other purposes that serve your office work.
Portable/mobile office containers. These are more dedicated units available as prefab office buildings for a range of applications such as main offices, representative offices, conference rooms, reception areas, guard booths, and so on.
Modular office complexes. You can opt for a combination of private office cabins, restrooms, and kitchens to form a fully functional office complex for multi-purpose workspaces.
All of the above prebuilt structures make Karmod a top choice for businesses looking for maximum customization at reasonable costs – without ever compromising their architectural freedom and quality standards.
Let your office go the extra mile
Portable office cabins are great inventions for on-the-go convenience. They provide the best nomadic freedom for businesses that need to relocate or expand without being slowed down by leases or ground-up construction. Prefab offices create efficient and thoughtful workspaces to support the short-term, makeshift needs of your business. By tapping into the benefits of prebuilt structures, you can save a lot of time and money on the building process and instead focus more on what matters the most – your work.