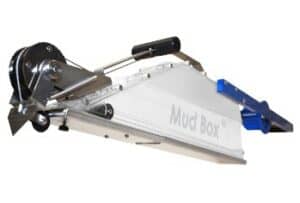 Image source: Tapepro
Located in Burleigh Heads, Queensland, Australia, Tapepro Drywall Tools has a global reputation for its automatic taping tools. It supplies products to contractors and distributors all around the world, including two US stores in Broken Arrow, Oklahoma: Freeman Products Inc. and Wall Tools LLC. Tapepro tools are ergonomically designed for all professional and DIY projects in plasterboard construction. They eliminate fatigue during repetitive tasks and help you work productively. The company's catalog features all kinds of tools you would need for a drywall project. These products and their relevant accessories are built for durability and simplicity to streamline your work.
Tapepro offers a 3-year warranty on its tools. It focuses on extensive research and development areas as well as quality control to ensure the best results. With a leading after-market technical support, the store is famous for its instructional guides and online tutorials, allowing users to work easily in various applications. There are tools and equipment designed for specific uses, and this article discusses some of the products in each Tapepro category.
Tapepro Drywall Tools – product categories
CORNER TOOLS
Tapepro has different corner tools to help you reach every nook and cranny using compound tubes, corner boxes, corner finishers, corner rollers, cornice heads, glazers, pro-reach handles, etc.
1. Compound Tube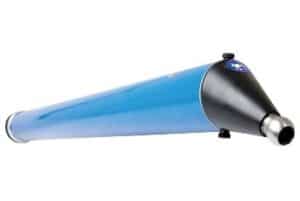 The Compound Applicator Tube from Tapepro is designed for multipurpose uses. The versatile tool can work with the Applicator Head (AH-38) attachment for applying joint compound to internal angle joints. The Outside Applicator Head (OAH) is used for external angles, and you can also connect other fixtures like 75mm Corner Glazers, 65-75-90mm Corner Finishers, Cornice Head range, AIA Manta-Ray, FAN Flat Applicator Nozzles, and FTA Flat Tear-way Applicators. The compound tube is available in sizes of 900mm and 600mm. It has a durable, powder-coated aluminum tube and a quick-release, high-flow nozzle with a stainless-steel ball.
2. Corner Roller
Tapepro's Corner Roller helps with bedding paper tapes conveniently into internal angles. You can first use an Automatic Taper and then work with this self-aligning roller to apply the compound precisely into a corner. It has a die-cast aluminum structure with durable stainless-steel rollers; their Delrin Acetal bushings speed up the application work. You can easily adjust the working angle using the tool's swivel attachment; the larger tube also adds to the overall comfort for prolonged jobs.
FLAT FINISHING TOOLS
This category in Tapepro Drywall Tools features finishing products like flat boxes, booster auto boxes, flat box bead guides, bumpers, flat box handles, and Pro-Reach handles.
1. 6″ Flat Box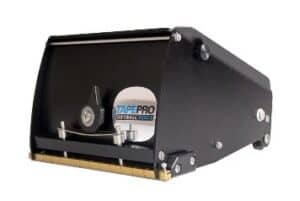 This 6" (150mm) Flat Box offers multiple uses like coating internal beads, coating screw indentations, as well as filling flat recess joints. The tool is ideal for coating to an adjacent edge and has the standard Tapepro wheel axle. It features the new Flat Box BumpersTM that protect the adjacent surface from getting scraped as you move the blade. The bumpers also protect the blade holder and are compatible with any flat box tool from Tapepro.
2. Flat Box Handles
Tapepro's Flat Box Handle is designed for easy ergonomics and comfort. It includes a unique braking system that works at any angle, letting you work without obstruction. The handle connects to any Tapepro Flat Box and comes in various lengths including 600, 900, 1050, 1200, 1500, and 1800mm. You can also choose between 600mm and 1200mm Handle Extensions for better coverage.
LOADING/FILLING TOOLS
These tools include compound tubes, loading pumps, and Mud Shark flat applicators for different loading and filling purposes.
1. Loading Pump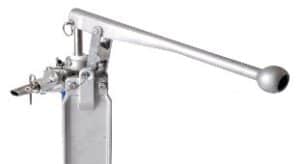 This Loading Pump is quite sturdy and can be used for filling all Tapepro drywall tools. It works with quick-set/air drying compounds and has quick-release, stainless-steel clips for easy cleaning. The self-priming loading pump makes a great tool for contractors to speed up construction stages. It has aluminum and stainless-steel parts with a powder-coated tube, a quick-release pin, and a longer handle for reduced work fatigue. There are also quick-release clips and a valve for simple maintenance.
2. Mud Shark Flat Applicator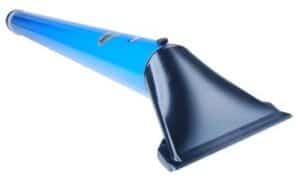 This Mud Shark Flat Applicator has great functionality as a compound tube. It is suitable for filling flat joint recesses for the taping process. There is more capacity to hold compound materials for continuous application. You can use this Tapepro tool to fill a flat box from a bucket quickly and easily. It is made up of a powder-coated aluminum tube and includes a quick-release nozzle/piston component. The plastic, high-flow nozzle has mud wings, and a Flat Applicator Nozzle (FAN) can be purchased separately. The applicator's 135mm blade has the same material as flat box blades from Tapepro.
NAIL SPOTTERS
The nail spotter category includes tools for filling nail and screw holes, allowing you to work along multiple lines as smoothly and easily as possible.
1. Nail Spotters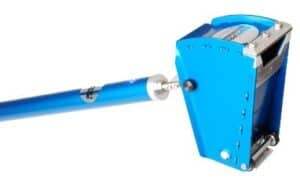 Tapepro's Nail Spotters feature ideal ergonomics for comfortable use. The blade width incorporates wheels and facilitates the whole process. This tool helps you fill indentations for multiple nail lines. It is equipped with an axle-mounted pressure plate, nylon bearings, an adjustable interlock handle, and a kick plate for convenient positioning and smooth operation. Wheels on the fixed axle also support easy gliding, giving you a better grip and leverage to maneuver the tool.
TAPING TOOLS
Tapepro's category for automatic taping tools includes various trademarked accessories, such as Auto Taper SuperLite, automatic tapers, Mud Box, and Mud Box Pro. These carbon fiber plastering tools are famous for their automatic taping applications.
1. Auto Taper SuperLite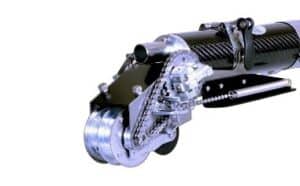 This Auto Taper SuperLite tool extends the innovative SuperLite range from Tapepro. It is the ideal taping machine for all purposes. The design includes a carbon fiber main tube with a quick-release head, titanium side plates, adjustable tube rollers, billet aluminum control rings, and anodized cover plates. The overall lightweight design is reinforced by the dent-proof carbon fiber material and comes with a hinged tape retainer as well as a removable cover plate.
2. Mud Box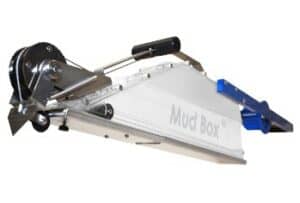 The Mud Box tool is a proprietary solution from the store. It is designed to apply tape as well as the compound material at the same time, efficiently speeding up your work on angle joints. The tool uses 75m or 150m paper tape rolls and has a spring-loaded creaser wheel with a tape cutter. It includes polycarbonate, stainless-steel, and aluminum parts, making the combination device quite sturdy for long-term use. You can also control mud flow using the adjuster. Compared to standalone taper tools, the Mud Box has more capacity and a larger tape wheel. It provides better coverage and easy cleaning – with improved flexibility for all applications.
TOOL CASES
Tapepro has its own aluminum tool cases and portable kits to help you organize and carry your tools.
1. Aluminium Tool Cases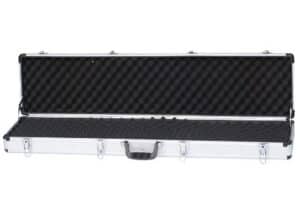 These Aluminum Tool Cases are available in two versions. The TC-1200 model measures 1230mm x 350mm x 115mm and is designed to protect internal tools. It has 4 latches and a comfortable handle. The TC-1400 model can hold larger tools like automatic tapers or flat boxes, and it measures 1400mm x 360mm x 175mm. Its checker plate aluminum body includes 4 latches, 2 locks, and 2 handles. There are also roller wheels on one end of the tool case. They are both quite portable and have enough room for all your Tapepro essentials.
2. Tool Case 450mm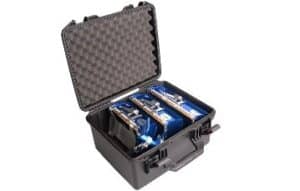 This is a Boxer Tool Case designed for flat boxes and similar tools from Tapepro. The injection-molded design measures 450 x 350 x 250mm and makes a great kit for your drywall tools. It is resistant to shock and water and is quite durable for regular use. There are 2 latches and a lockable lid covering a foam-lined interior, keeping your flat boxes perfectly organized for safe transport.
A bad workman can no longer blame his tools
Tapepro Drywall Tools has a growing popularity for the construction-friendly products it creates. The store's diverse catalog is a one-stop guide for all projects, both professional and DIY. You can buy kits that have everything you need, and the accompanying video tutorials bridge any remaining gaps. With good ergonomics and combo tools, you really get the best of both worlds!