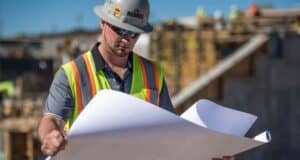 Image credits: Nabholz
Construction projects require dedicated supervision for managing jobsites, and field superintendents are hired for overseeing this specific – and major – construction aspect. They have a supervisory role to perform for the given project and are responsible for ensuring its timely completion. In this article, we will zoom in on key details like the qualification requirements and construction duties of field superintendents – so for all the new candidates about to embark on their super journey, this is what you can expect to meet along your career.
Construction Field Superintendents
Their Profession
Field superintendents are hired to manage and supervise the actual construction of commercial, residential, or industrial buildings based on their project expertise. These professionals can either work for general contractors (like concrete contractors) to manage the whole construction jobsite, or they can supervise a specific subcontractor trade. Field superintendents are the main contact point for field updates, so they are expected to really have their finger on the pulse of what goes around the jobsite. Their work environment is generally tough, with unexpected weather, risk of injuries, electrical hazards, and fire being just a few occupational hazards.
Their Qualifications
While some construction firms accept a high school diploma backed by sufficient field experience, it is recommended to pursue at least an associate degree or a bachelor's degree in relevant majors like:
Engineering
Architecture
Agriculture
Construction management
Business management
In addition to the minimum degree requirements, field superintendents should renew their knowledge and skills by signing up for various certifications throughout their careers. These certifications include PMP, OSHA, MS Office, and other construction-based credentials designed to help professionals stay tech-savvy and updated.
Their Skills
It takes a range of skills to succeed at such a diverse and demanding job. Field superintendents should generally have – or work towards – the following skills in order to manage their field supervision more efficiently:
Communication skills. These ensure productive interactions between teams, contractors, subcontractors, and other stakeholders. Language skills are a key subset here as bilingual and multilingual field superintendents can bridge communications gaps within their crews and also establish international networks – for example, during vendor selection. Good communication also relies on the ability to read and interpret construction documents – since most of the team discussions and reporting will revolve around blueprints, drawings, contracts, etc.
Leadership skills. Field superintendents are – essentially – field leaders, so they need to adopt a strong and effortless leadership style to perform their best. This includes leading both the crews and the project successfully to the finish line, which requires a host of other skills like good organization, time management, openness to feedback, and conflict resolution.
Problem-solving skills. In addition, field superintendents require spot-on problem-solving skills to address emerging issues with a calm and focused approach. They should be armed with powerful backup plans to resume the project in case of unexpected delays and complications. This also includes helping crew members reach common grounds during conflicts – all of which mark the traits of a good construction leader.
Multitasking skills. Field supervision and management is a very multifaceted job, so you do need strong multitasking skills to keep up with the fast pace. Efficient field superintendents use methods like task delegation, reminder tools, and management tools to stay on track – which is why technology makes the best of friends for all construction roles.
Tech-savvy skills. Field superintendents need to be familiar with tools like MS Office and construction management software for owning all of the above skills. Management tools can be used to automate most of the administrative aspects of field supervision, so this will help you communicate better, be a smart leader, solve problems, and multitask effortlessly. Most importantly, management apps and digital schedules will allow you to track your projects better and make timely adjustments to streamline activities.
Their Training
Field superintendents generally start off in different construction trades and gather maximum field experience in order to be eligible for this job. They can begin as field technicians and surveyors before applying for the role of an assistant field superintendent. The training required for such field-based experience can be achieved through internships, apprenticeship programs, and in-house opportunities organized by construction companies themselves. By spending a minimum of 5 years learning from a field superintendent, you can meet the hiring criteria for most firms.
Their Responsibilities
While the specific field responsibilities may differ between projects, most of the key job roles remain the same and can include the following tasks:
Supervising all the field activities for each milestone and trade.
Confirming project feasibility and setting realistic budgets, schedules, and resource allocation.
Ensuring safety compliance for workers, including OSHA protocols and the proper handling of equipment and vehicles.
Scheduling and managing orders for timely procurement.
Tracking budgets, schedules, project statuses, limitations, red flags, and worker concerns.
Communicating information clearly and on time with the relevant parties using reports, evidence, construction documents, emails, management apps, and so on.
Ensuring conformance to the construction blueprints and drawings.
Resolving disputes and managing conflicts within all the associated trades.
Checking for quality assurance before reporting to the top tiers and making the necessary improvements.
Organizing regular meetings with all the involved departments to ensure that everyone is on the same page.
Organizing training sessions to address technological gaps and other skills gaps within teams.
Attending construction conferences and staying updated on the current trends, practices, regulations, and economies.
Field Superintendent Job Opening Example
Here is a snapshot of a job opening for the position of a field superintendent, taken from the  Fortunato Construction Group via Indeed. As you can see from this one example, a construction firm looking for field superintendents will normally seek qualities like countable field experience, construction certifications, strong communication skills, and a problem-solving attitude. So, if you are standing at the threshold of your field superintendent career, make sure to get these major boxes checked before applying to your dream company – or aiming for a promotion in your existing firm.


Conclusion
That was a stroll down the field super profile! It may take 5-10 years before you actually become a field superintendent, and the advancement options from this vantage point are even more promising. Being a professional field superintendent for the required number of years will open doors to other career routes like construction management and executive, top-tier roles. You can always start your own contracting business with the skills and knowledge you acquire, so keep an eye out for opportunities that enrich your time in the field, and don't be scared to touch a new horizon for new beginnings!