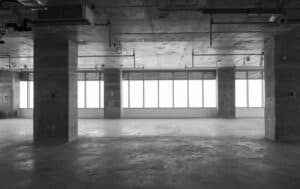 Image credits: Nearby Engineers
Commercial leasing has a whole range of terms associated with how a particular commercial building is delivered to you – the tenant – for successful occupancy. One such scenario is when you are leasing a raw, unfinished space. This is often referred to as a shell space, which is the umbrella term for all unfinished building conditions. It is categorized primarily into grey shell and vanilla shell spaces, both of which represent different levels of finishes for the leased building. In this article, we will focus more on grey shell buildings and discuss why tenants prefer leasing a grey shell over a vanilla shell.
Grey shell buildings
What exactly is a shell space?
In general, a shell space is the most basic, vacant, and raw condition of a commercial building that is going to be leased for the very first time. This means that it is entirely unfinished and has not yet received any type of improvements to make the space inhabitable. Such a concrete-shell building may be newly constructed, so it is still in the early stages of construction and at the threshold of first-time improvements or fit outs.
A shell condition simply includes the floor plan, unfinished walls, exposed ceilings, and little to no utilities, so the infrastructure is pretty much incomplete and needs to undergo improvements according to the tenant's specifications. Such a bare-minimum building condition can either exist as a grey shell or a vanilla shell depending on how much work has already been done. More specifically, the shell type is classified into a "cold grey shell" and a "warm vanilla shell" – both of which will be discussed below.
What is meant by a cold grey shell?
A grey shell building – or a cold grey shell – is the first category of a shell condition. It is literally the lowest, rock-bottom level that any commercial building about to be leased can exist as – anything below this would basically be a jobsite still in action. Using the two keywords "cold" and "grey", such a shell space can be described simply as concrete cold and concrete grey because there is no significant addition to this newly constructed building. Since the building lacks proper HVAC, the interior is always cold because there is no way to heat the area – or cool it either. Also, the only visible infrastructure is the unfinished concrete floor and exterior walls, so grey is all you see once you step into a grey shell building.
What does a grey shell building include?
Typically, a grey shell building only has basic structures like unfinished floors, bare stud walls, incomplete utility points, and a partially installed sprinkler system. The available features may differ between leases, so it is important to clarify the scope of your grey shell agreement before signing the papers. There are no strict rules as to what can be included in the available space before it is delivered to you, which is why it helps to get in touch with a commercial real estate expert to learn your options well and understand what you are signing up for. Otherwise, you might find out later that you ended up paying for additions that should have been already delivered to you within the grey shell limits.
What does a grey shell building NOT include?
Strictly speaking, a cold grey shell lacks essential amenities that make a space functional, so you will generally not find the following elements in the existing space:
Proper HVAC and ductwork
Finished and painted walls
Drop ceiling
Finished flooring and tiles
Doors and other mechanical hardware
Electrical and plumbing utility connections
Proper restrooms
Individual, built-out rooms
Millwork
Lighting
Since so much is missing in terms of functionality, all of these aspects need to be covered before you can get to the aesthetic part. Grey shell buildings require extensive improvements before they can come to a workable standard that is considered safe for occupancy. Therefore, the next step in such a commercial building's lifecycle would be the fit out process required to introduce your chosen set of improvements. At the end of the fit out, the once grey shell building will be promoted to a warm vanilla shell before being transformed into a fully functional commercial space that is now move-in-ready.
Why would you want to lease a grey shell building?
Cold grey shell building conditions provide several advantages to both the building owner and the tenant. Thanks to the bare-minimum offerings, the building owner does not need to spend a lot of money on improving the space, only to have it rejected and torn down by a potential tenant requesting custom changes. Grey shell spaces can be constructed faster and made available to an interested tenant that much quicker, ready to undergo custom alterations according to the tenant's needs. Therefore, the building owner can really play safe in this way and offer just what the tenant requires instead of suffering reworks later on.
Commercial tenants who have a greater customization scope for their leased premises will benefit from renting a grey shell building because of the extra freedom they receive in choosing their own configurations from scratch. This is particularly helpful when tenants have specific technical and aesthetic requirements – such as energy efficiency systems, custom lighting, smart technologies, and so on.
If you are going to be a long-term tenant (say around five years or more), it will be worth investing in custom changes that you can enjoy down the road, which is why commercial tenants with longer leases prefer renting a grey shell space for maximum customization. There is also more design flexibility for specific businesses like restaurants, medical offices, and hotels, allowing tenants to configure the premises exactly as needed. In terms of the financial advantage, grey shell buildings have more chances of securing a tenant improvement allowance from the building owner, considering the amount of work that needs to be done – and how the added changes can be retained for the next tenant, thus ensuring consecutive leases. For this reason, grey shell conditions have a more win-win potential to chase by both the tenant and the owner.
What are the drawbacks of leasing a grey shell building?
Once you lease a space in its grey shell form, you will be adding various structural and technical improvements for the first time. On average, this can cost you between $30 to $100 per square foot depending on what was available to you at the time of leasing and what your specific business requires from the given space. It can be both costly and time-consuming to fit out a grey shell building, and if the total costs exceed your approved allowance, you will have to pay any additional amount on your own.
How does this compare to a warm vanilla shell?
In contrast, a warm vanilla shell comes with some level of finishes already in place, so it is a step up from a cold grey shell. It is actually the ideal, midway approach to commercial leasing for someone looking to occupy a mostly finished space and move in that much quicker. A warm vanilla shell was previously a cold grey shell that has now been updated to feature standard amenities – especially a functioning HVAC system, hence the warmth. These may include paintable walls, electrical and plumbing connections, finished floors and ceilings, fully functional HVAC with ductwork, and so on. Since all of the functional elements are already installed by the owner beforehand, you will just have to add any remaining changes for your specific business – such as paintwork and custom lighting. This gives you a more budget-friendly option to work with, as vanilla shell fit outs cost around $5 to $20 per square foot. It is the best choice if you are not worried about customizing the space, are short on time, and require a fast-track route to start your business.
Don't stay in the grey
Before leasing a grey shell building, make sure you fully understand what the agreement entails. This includes clarifying which features will be delivered to you as a grey shell. It often happens that commercial tenants only assume what they might receive as part of the grey shell lease without talking it through with the building owner. As a result, they end up surprised with what they see compared to what they anticipated, and it is too late to do anything because the lease has already been signed. To avoid such disappointments, get in touch with a reliable commercial real estate expert who can help you understand both the requirements for your business and the feasibility to rent a grey shell space.
It is important for all the involved stakeholders – tenants, building owners, commercial contractors, and real estate agents – to be on the same page regarding the original condition of the building as well as the construction scope. Commercial real estate terms like grey shell and vanilla shell usually tend to overlap depending on the project type, so stakeholders can have different perceptions about the available space. This also depends on factors like location and the applicable real estate laws, which is why you really need to get out of the grey and have everything in black and white instead!