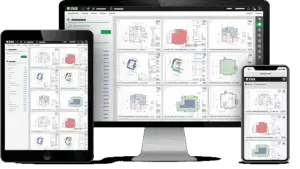 Image source: Stack
Blueprints are the main starting point for construction projects, and they provide essential information for the required materials. Construction takeoffs refer to this material takeoff process for obtaining a list of all materials as well as their associated costs from the blueprints. By procuring such a comprehensive list, construction experts can estimate the total project costs more efficiently. The process is carried out by construction estimators, general contractors, or subcontractors – and they have to "take" each material "off" the final blueprint. This clarifies all the material types, quantities, and costs required to fuel the whole project. Adding the individual material costs gives the total material cost that can now be incorporated into the final project estimate. The takeoffs must reflect every single material present on a blueprint and also consider wastage aspects. This gives you a better understanding of your client's project feasibility.
Contractors can provide quotes for their specialized services by measuring the given blueprints for an itemized breakdown of materials. Takeoffs can be done using manual calculations as well as digital tools. With improved digital solutions storming the market, construction experts are increasingly employing these technologies for large-scale projects. They enable accurate takeoffs from blueprints and eliminate inconsistencies of manual work, as discussed in this article.
How to do takeoffs from blueprints
Manual vs digital
Material takeoffs can be both manual or digital depending on your budget and expertise. Manual takeoffs from printed blueprints require scales, calculators, a bunch of equations, and lightning-fast math skills. Traditionally, all takeoffs were done by hand, and construction projects relied on extensive efforts to procure reliable results – that needed cross-checking and multiple revisions! Manual techniques can often stretch to several days before you obtain a workable takeoff. While this method is quite time-consuming and error-prone, it is not entirely replaced by digital alternatives. Some professionals still measure blueprint data by hand and have exceptional manual skills – even though the process sounds more like working on autopilot mode.
Compared to the hefty manual measurements, various blueprint takeoff software solutions are available to make your job easy. These digital tools are designed for accurate and fast results that ensure reliable cost estimates in construction. They take away the repetitive nature of large-scale takeoffs and generate quick results based on digital blueprints. Cost estimators and contractors frequently use a blueprint takeoff software to streamline other related aspects of the material hunt, such as team collaborations and updates to the design. You no longer need rulers and calculators for the work, and you can save a lot of time by reducing error risks in the takeoff. The software will help you complete a takeoff within an hour and submit your contractor bid immediately, increasing the chances to be hired for a project.
Takeoff software and cloud
Digital takeoffs can be done using a downloadable software or a cloud-based platform. A downloadable software operates from your computer's local storage and uses a pre-defined database of materials from where you can select the input. It creates a cost estimate by using your digital blueprint on which you can navigate the cursor to mark the required areas and symbols. You can also specify details that the software should consider while calculating material quantities and costs.
A cloud-based software works similarly, except that you will work online instead of downloading it to your computer.
Various cloud solutions are available online, and you can set up an account on their websites to access them. These cloud solutions have the added benefit of real-time collaborations with your team members, so everyone stays on the same page. Both types of digital takeoffs allow you to make quick adjustments to the material data and generate flexible results. Two cloud-based platforms for blueprint takeoffs are discussed below.
Blueprint takeoff cloud solutions
1. Stack
Stack is a dynamic software for cloud-based material and quantity takeoffs. It is used by general contractors, trade subcontractors, home builders, suppliers, and manufacturers. The integrated software solution helps you with accurate measurements and cost estimations for any given project. It makes a versatile preconstruction tool for improved leverage in your bidding process. You can receive takeoffs that are produced ten times faster than other methods. Stack takeoff software delivers precise blueprint takeoff measurements, project estimates, and real-time team collaborations, bringing all your preconstruction stages under one cloud! This streamlines the overall planning and contributes to better profitability as a construction company.
The digital tool allows you to organize all your project documents and plans online. It is an efficient way to create customized bids, proposals, and cost estimations for each client by handling all markup, overhead, and tax areas. You will benefit immensely from this centralized hub for various preconstruction needs. Stack provides simple measurement and markup tools to generate quantity takeoffs and cut down errors. This shortens your overall takeoff time by at least 75%, so you can redirect valuable hours to other pursuits.
2. ProEst
ProEst is another cloud-based software for construction takeoffs and estimations. It allows cost estimators to create competitive bids and boost incoming projects for their companies. You can complete detailed takeoffs from the given blueprints quickly, accurately, and efficiently. The flexible platform addresses the needs of all construction experts, including general contractors, subcontractors, civil contractors, landscape specialists, etc.
It has customizable automation features that help you track and manage all your material costs and quantities. You can also collaborate with stakeholders online and access the takeoff documents, annotations, and upgrades in real-time. ProEst is a valuable preconstruction tool for calculating material and equipment costs in half the time a manual measurement would take. With better accuracy and detail, your construction teams will eliminate the risk of expensive mistakes that can easily jeopardize your client-company relationship. You just need to use ProEst's built-in functions to obtain on-screen takeoffs guided by your mouse cursor on the PDF document.
These digital tools automatically calculate detailed material costs, helping you navigate online instead of struggling with printed documents and blueprints. This level of speed and accuracy helps you win more bids and keep your timelines accelerated. ProEst offers color-coded results, so you can do better takeoffs with improved readability and reviewing features. The cloud-based platform keeps your blueprints and documents organized by discipline, thanks to its Optical Character Recognition (OCR) feature for automatic numbering, naming, and internal linking support.
How on-screen takeoffs speed up your work – at a glance 
To summarize, here are the key reasons why you should consider using cloud/software/digital/on-screen takeoffs with blueprints. 
Easy material breakdown 
General contractors create quotes for their bidding process using the clients' blueprints. Accurate quotes are important to secure their chances of winning a project, as clients require reliable numbers to understand the budgets and project scope. Takeoffs from blueprints are used to facilitate this measurement process to break down all the materials, quantities, and costs that are associated with a construction project. Getting the takeoff values right gives your preconstruction phase an excellent head start, and digital solutions are the way to go. They speed up your material analysis and generate comprehensive lists that would otherwise take days to complete using manual methods. A typical material breakdown would include details like: 
raw materials such as concrete, asphalt, sand, and timber along with their total volumes 
prefabricated materials such as bricks, cables, pipes, wires, and fixtures along with their total lengths/quantities 
material specifications like lumber dimensions or cable types 
tiling materials and counts required for the given surface area 
roofing and paint materials for the given square footage 
Future-proofing the takeoffs 
Another important consideration for an accurate takeoff is updated material pricing. When you use software or cloud-based takeoff solutions, you can easily rely on their values because of the vast, updated databases working behind the scenes. 
This allows you to incorporate key changes to your takeoffs, as any fluctuations will affect your final quote. With manual calculation, you would need to stay in touch with the latest trends and refresh your knowledge on the highs and lows of material prices. Otherwise, you can risk the validity of your bid – and end up losing prospective clients. Construction projects and material prices have been severely hit by the pandemic, and so this gives contractors and estimators all the more reason to back their expertise with reliable tools. Software and cloud solutions can help you future-proof your takeoffs because they are constantly updated and can take away extensive market research from your busy schedule. 
Takeoff automation
All of the benefits of using software to do takeoffs from blueprints center around one main incentive – automation. You just need to start with a project plan, choose measurement assemblies on the software, and start pointing and clicking on the blueprint. The software takes over from here – it is as simple as that. Material quantities can now be calculated using built-in functions in the software tool. By automating takeoffs in this way, you no longer have to read the blueprints yourself – the software reads them instead and generates a list of construction materials. It uses an extensive database to extract the latest costs and material details. Since the database is pre-populated with current data, you can save a lot of time and effort compared to measuring by hand – which always makes your takeoffs vulnerable to errors and inaccuracies. Digital takeoffs offer a library of flexible tools and functions that streamline your work using just a few clicks. This helps you reach a finalized bid 10 times faster – without ever carrying, printing, or storing blueprints.  
Instant access 
Lastly, cloud-based takeoffs speed up your work by giving you instant access to all your takeoffs and construction documents – as everything you save is stored online and can be accessed anywhere, anytime, on any device. This is a great advantage for anyone in the construction field because of the frequent traveling and meetings the job demands. Cloud software will be accessible from your account using the computer/laptop/tablet/smartphone you have at hand, whereas downloadable software only works on the device that you have installed it on. Also, working online gives you better collaborative scope with your clients, teams, and stakeholders. They can all contribute to the takeoffs from different locations, which keeps your work synchronized and on schedule. 
Cloud storage is increasingly popular for the security and disaster recovery options it provides, especially if you work with industry-leading solutions like Stack and ProEst. These tools help you organize takeoffs more efficiently and access takeoff histories as well, so all your past work can be revisited whenever you like. 
Let preconstruction take off in the clouds!
As a cost estimator or contractor, you need to keep up with fluctuating market trends to work with updated material costs. A blueprint takeoff software is a great tool to streamline your work. Estimators who have been using manual calculations for years may prefer their hands-on familiarity with the process, though a digital solution has its own undeniable charm. Your company's profits and reputation depend on the estimating stage, as this determines your proposal efficiency and credibility as a business. If errors occur during the takeoff process, you will end up gathering negative reviews. The main benefit of cloud solutions is that they give you a professional edge in your work and help you anticipate changes in material costs. By using a digital tool, you can measure accurate takeoffs from blueprints – and fuel projects to finally leave the preconstruction runway!