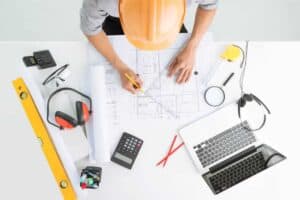 Image source: World Estimating
Construction estimating is a series of measurements and calculations made to determine the total cost of a construction project. The success of building any residential, commercial, industrial, or civil structure depends on accurate financial forecasts. These cost estimations are done by professional estimators who can help a construction contractor come up with reliable numbers. As a contractor, you need to provide accurate project estimates to your clients during the bidding stage. This increases your chances of getting hired, as your portfolio reflects how well your estimations convert into real figures. Contractors often outsource the estimating process to various construction estimating firms, so they can create more bids faster and boost their probability of winning a project. If done manually, the process can be very time-consuming, and so working with expert firms helps you streamline your job. Their estimators use digital tools that are proven to be tested and efficient for the work, allowing professionals to factor in the latest material and labor trends.
A well-structured estimate uses takeoff details from blueprints and sticks to the client's project specifications. It supports the budgeting stages by giving contractors a reasonable number to discuss with their clients. The cost estimate includes direct costs for materials and labor as well as indirect costs for security and permitting aspects. This makes the process quite comprehensive, and you can expect construction managers and surveyors to join in too. Detailed forecasting is important for applications like contractor bidding, design, budgeting, cost-benefit analysis, etc.
Apart from general contractors, construction estimation is also used by subcontractors, builders, architects, engineers, and project vendors – so a wide audience relies on the services of a good estimating firm. An accurate cost estimate decides how successful a project is going to be, and this directly affects the project's feasibility, which is why clients require a close enough value to avoid over/underbudgeting issues. Such a level of accuracy should address market fluctuations and various sustainability differences to give clients only the relevant material cost allocations. Regardless of your construction trade, the benefit of working with estimating firms is their software expertise that makes all the impact, as discussed below.
Construction estimating firms
1. World Estimating
Certified consultancy
World Estimating is located in Bronx, NY, and it has spent more than 15 years providing construction estimating services throughout the US. The firm works with general contractors, subcontractors, investors, builders, designers, and other professionals in the industry. You can outsource your estimating process to skilled in-house forecasting teams from the company, including quantity surveyors, trade experts, field superintendents, and estimators. They offer detailed and accurate estimates as well as material takeoffs – which refer to measuring materials and associated costs from construction documents.
Quick turnarounds within 24-48 hours give you a better chance to leverage bids with potential clients, as you can get back to them that much faster. World Estimating implements the policies of certified estimating groups like the American Association of Cost Engineers (AACE). This makes the firm eligible to deliver software consultancy using trade-specific software such as Xactimate, Bluebeam, PlanSwift, Trimble, ProEst, IMHS Mark Systems, FastPIPE, FastDUCT, Bid Point XL, and Quest Estimating. You just need to upload the project plans on the website and receive instant quotes.
Construction estimating services
World Estimating provides a host of services to cover all commercial, residential, industrial, and civil constructions. The process begins with a drawing review stage to extract material takeoff details.
Cost estimators then use certified software tools like PlanSwift and On-Screen Takeoff to obtain pricing data. Using the CSI codes from the drawings, the teams curate zip-code-based estimations and consider cost drivers such as labor wages, inflation, logistical changes, site limitations, etc. A final audit confirms the authenticity of this whole process, after which you receive the estimates. You can apply for freelance estimating consultancy and pay the team on an hourly basis; you can also choose dedicated services for comprehensive results. World Estimating allows you to save 60% of in-house estimation charges by subscribing to its monthly package.
The firm specializes in all CSI divisions, including concrete, masonry, flooring, mechanical, electrical, plumbing (MEP), HVAC, drywall, interior and exterior finishes, and thermal moisture protection. They set the tone for the company's adaptive portfolio that meets the needs of various housing, healthcare, retail, recreation, dining, corporate, and airport budgets. Some of its construction estimating services include:
bid estimating using location-based material and labor costs from a wide estimation database.
design estimating for various takeoff and pricing information.
preliminary estimating in the preconstruction stage to determine loan options, budgeting, and the land's cost-benefit analysis.
conceptual estimating along with design estimates to bridge specification gaps and measure the project's feasibility.
2. Burns McDonnell
Employee-owned
Located in Kansas City, MO, Burns McDonnell is a 100% employee-owned estimating firm. It provides tailored services that meet your client's project goals and keep up with the emerging market trends. The estimating department is full of professional estimators and licensed engineers who are certified by the American Society of Professional Estimators (ASPE). They specialize in individual and multiple trades (site, civil, structural, mechanical, electrical, etc.). This is reflected in the firm's competitive portfolio that features all kinds of estimating experience, bringing the right costs to contractors and subcontractors within suitable timeframes.
You can apply for dedicated services and general consultations to fuel your bidding process and work with the right numbers early on. It is an effective way to call in the experts when you have multiple projects to handle, as the firm can address each requirement in its entirety. The result is that you can bid on projects a lot quicker than before and actually end up winning a project.
Construction estimating services
Burns McDonnell works regularly with engineering and design-build audiences over a vast client base. This has given the firm maximum exposure to the construction climate, allowing it to build a huge database of both domestic and foreign cost information. A lead estimator who matches your project outline will first be assigned to you, after which the relevant trade-specific estimators will join in when needed. The lead estimators stay on board from the project's inception right until the final construction, so you will always receive ongoing advice. They use the latest measurement technologies, consult relevant staff, track schedules, and manage influencing risks throughout the consultation. This integrated approach keeps your clients' expectations at the frontline of all estimating stages. The firm also focuses on project management features to optimize scheduling, costing, and resource mining areas.
3. QTO Estimating
Nationwide outreach
QTO Estimating serves most of the states, including New York, Florida, New Jersey, Texas, Minnesota, Arizona, Pennsylvania, Ohio, Indiana, Michigan, Massachusetts, and Alabama among others. "QTO" is short for quantity takeoff, which is the highlight of this one-stop estimating firm. It has a resourceful construction estimating crew of qualified engineers and quantity surveyors who work on quantifying and forecasting the projects. They use advanced software tools like PlanSwift, Bluebeam, and On-Screen Takeoff to gather accurate information from blueprints and drawings. The cloud-based estimation documents are quite comprehensive with adequate attention to the latest material, labor, and equipment costs. Outsourcing your estimation process is more financially productive than using your own in-house resources – and QTO Estimating has competitive rates that drive quick turnarounds. If you are a general contractor, subcontractor, lender, or architect, the firm can help you procure tailored estimates for your own client base. You will also receive revisions after the initial estimate to accommodate your client's evolving changes.
Construction estimating services
QTO Estimating provides all residential and commercial forecasting services, covering various trades and CSI divisions. You can email your client's drawings or upload them to Dropbox, after which the estimating teams will respond with takeoff proposals. If you are a new applicant on the website, you can avail up to a 30% discount on your first estimate. Based on the drawings, QTO Estimating teams will measure the material quantities, factor in the labor costs, and add up a cumulative value for various estimates on remodeling, preliminary, civil engineering, feasibility, and masonry areas. Other applications include:
site work estimating for demolition, utilities, concrete pavement, excavation, and landscaping purposes. Concrete is a key construction material and requires accurate quantity estimates to cover structural phases and rebar procurement. The firm helps you anticipate bulk concreting uses for curbs, driveways, slabs, stairs, etc., making this service a valuable tool for concrete suppliers.
interior estimating to measure cost allocations for ceilings, insulation, framing, drywall, acoustics, tiles, painting, and window/door installations. These estimates also influence various renovation projects using updated material, labor, and equipment charges.
exterior estimating for brickwork, roofing, parapet walls, stucco work, facade renovations, ornamental structures, and other external renovations.
residential estimating that brings qualified real estate experts on board. Along with material suppliers, these teams can procure reliable takeoffs from blueprints by scaling and measuring them using digital tools.
commercial estimating with detailed material takeoffs that are precisely compatible with your client's business. These estimates need to be delivered quickly for the fast-paced nature of commercial projects – and also due to their complex deliverables.
floor estimating to include itemized lists of the type of floor materials your client will use. They may include VCT tiles, LVT tiles, rubber, wood, carpet, and other finishing options. Flooring estimates are based on square footage values to offer building-wide forecasting. QTO Estimating has worked with apartments, hospitals, schools, hotels, and arenas for project-specific estimations.
mechanical, electrical, and plumbing estimating stages that are as detailed and inclusive as possible. These services handle all the frameworks of a building that make it fully equipped and functional – for example, through HVAC systems and smart technologies. The takeoffs need to focus on light fixtures, installation protocols, conduit aspects, wiring, plumbing, fire protection, sprinkler systems, ductwork, air handling units, power distribution, backup power from generators, communication systems, and several more MEP objectives. Electrical estimations are also measured using cost per square foot of the property, depending on its residential or commercial context. QTO Estimating can provide you with itemized breakdowns of each MEP element to understand the whole cost pie chart.
Counting between the lines
Construction estimating firms like those discussed above make your contracting job quite simple by digitizing the estimation process. This greatly narrows the room for errors and generates accurate financial forecasts that launch successful projects – and meet them precisely at the finishing line! They eliminate the losses that clients and contractors incur when budgets are under or overestimated. Accurate planning carves the way for better profitability by locating any resource gaps, and a skilled estimation crew is the best way to go. The use of advanced software tools like PlanSwift offers a good head start and allows teams to create elaborate, accurate, and comprehensive estimates.
Apart from material and labor inputs, a thorough estimation process pays close attention to hazards along the timeline. It is important to accommodate such impacts, as they can severely affect the initial estimates and cost your clients in the long run. Smart analytical perspectives and collaborations with relevant trade specialists are equally important. They help optimize the software takeoff results using professional expertise on board. Firms usually provide templated estimations to make sure no element is left out. Templates also cater to the different needs of contractor trades, so an estimation template for a general contractor would differ from that of a subcontractor. Based on the respective audience, a professional firm can use software tools to aid the process efficiently. Compared to manual calculations or cluttered spreadsheets, automating the job saves a lot of time, delivers error-free estimates, and lets you apply for more bids. In addition to these benefits, accurate estimations improve the chances of getting rehired by the client. A growing portfolio is always a rewarding incentive.
As a busy contractor with already enough on your plate, you can make the best out of licensed estimation services that take this load off your shoulders. Before placing any new bids, make sure to get in touch with qualified surveyors and estimators who can develop a bird's-eye view of the construction and anticipate – and avoid! – any financial turbulence ahead.